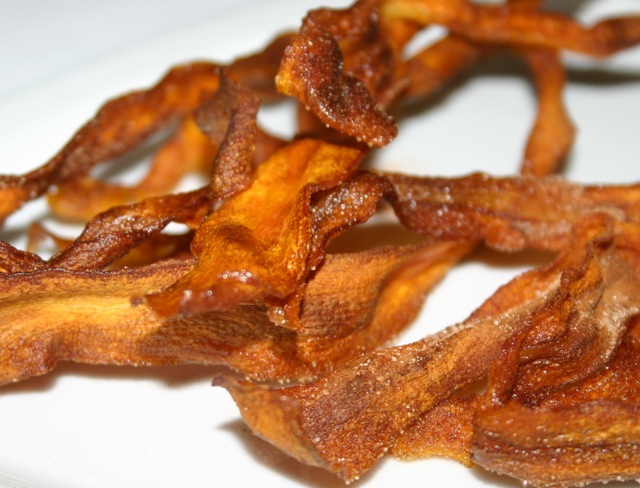 Crazy Cinnamon Carrot Ribbons
Amy Angelo won one of our recipe contests for this quick, easy and delightful snack. She says they are one of her 5 year old son's favorite snacks, and that they usually make a bunch of them and take them over to the preschool for all of his friends to enjoy. Our tasting panel loved them as well, and we dressed some up with chile powder for an adult-type snack. We found you could use less oil in a large skillet if you wanted to fry in batches.


Yield 10 servings

Ingredients

1 lb fresh carrots (washed well and dried)
3 cups vegetable oil for frying
4 tablespoons cinnamon
4 tablespoons sugar
---
1
Cut carrots into ribbons by running a sharp vegetable peeler down the length of the carrot, creating a long, thin strip. Pat the strips dry with paper towels.
---
2
Combine cinnamon and sugar in a zip top plastic bag, shake to incorporate. Set aside.
---
3
Heat the oil to about 350°F. Drop a carrot ribbons into the oil, a bit at a time to avoid overcrowding. Fry carrots in oil for about 2 minutes or until crispy. Remove and drain on paper towels.
---
4
While the carrots are still hot, sprinkle with the cinnamon and sugar mixture.
---
5
Serve when cooled.
---
---