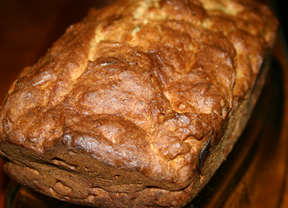 Gluten-Free Coconut Banana Bread
You don't have to be on a gluten-free diet to enjoy this one. It is rich and delicious, plain, buttered, or toasted with a bit of Nutiva Extra Virgin Coconut Oil spread on it.


Yield 10 servings

Ingredients

1 2/3 cup gluten-free all-purpose baking flour (Bob's Red Mill makes a good one)
1 teaspoon xanthum gum
2 teaspoons baking powder
1/2 teaspoon salt
1/3 cup coconut oil (if solid, heat slightly to melt to get correct measurement)
2/3 cup brown sugar, packed
2 large eggs, beaten
1 teaspoon vanilla
Zest of 1 lemon
2 large ripe bananas, mashed
1/3 cup shredded coconut
1/2 cup chopped walnuts
---
1
Preheat oven to 350°. Oil a 9x5 loaf pan.
---
2
In a medium bowl, whisk together flour, xanthum gum, baking powder and salt. Set aside.
---
3
In a large bowl, blend coconut oil with brown sugar. Add eggs and vanilla, blend well. Add lemon zest, bananas, coconut and walnuts and blend again.
---
4
Add dry ingredients to banana mixture and stir to incorporate.
---
5
Pour into prepared loaf pan and bake for 50-60 minutes, until browned and firm in the middle. Cool for 5 minutes, then remove from pan. Cool completely before slicing.
---
---
notes Note: Not all coconut oils taste great, nor are they nutritionally equal. Nutiva brand is organic and extra virgin, and has a yummy, light coconut flavor. In fact, if you like your banana bread toasted with butter, try the coconut oil in place of the butter. It's a delicious non-dairy alternative.
---