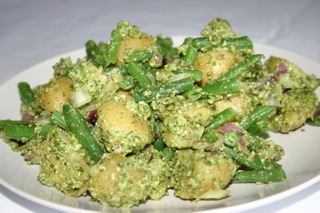 Picnic Perfect Potato Salad with Arugula Pesto
This delicious salad won as a picnic favorite in one of our recipe contests. It easily transports and has no mayonnaise to worry about if it is not chilled. Says recipe creator Natalie Klemko "My Picnic Perfect Potato Salad is a combination of my two favorite summer foods: potato salad and pesto. I knew a basil pesto wouldn't provide the dish with enough depth of flavor so I decided to create an arugula-based pesto to give the salad a peppery note. I always put red onion in my potato salads and who wouldn't love green beans with potatoes! The green beans are not just for taste but they enhance the dish texturally."

We totally agree with Natalie.


Yield 10 servings

Ingredients

3 pounds small Yukon Gold potatoes, washed, unpeeled
1/2 teaspoon salt, or more to taste
1 teaspoon freshly ground black pepper
12 ounces fresh green beans, washed, ends trimmed, cut into 2-inch pieces
2/3 cup chopped red onion

Pesto:
2 cups arugula
1/2 cup walnuts
1/2 cup grated parmesan cheese
1 clove garlic
1/2 cup olive oil
Salt and freshly ground black pepper, to taste
---
1
Bring a pot of water to a boil. Cook whole potatoes for 25 minutes or until tender. (Pierce with a knife or fork to check for doneness.) Drain water and place potatoes on a cutting board to cool for 40 minutes.
---
2
While potatoes are cooking, steam green beans until crisp-tender, 4 to 6 minutes.
---
3
Make pesto: place arugula, walnuts, cheese and garlic in food processor or blender. Grind into coarse paste. With machine on, add olive oil through feed tube. Add a bit more oil if pesto seems too thick.
---
4
Cut potatoes into 1-inch cubes and place in a bowl (leave the skin on). Season with salt and pepper. Gently fold in arugula pesto, red onions, and green beans. Refrigerate for a few hours to allow flavors to meld.
---
5
Taste before serving and adjust seasoning if necessary. Serve chilled or at room temperature.
---
---