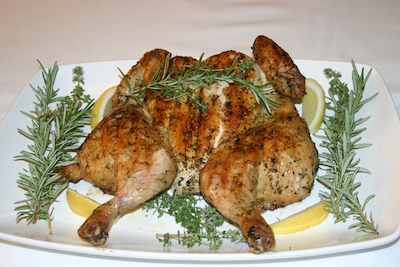 Chicken with Fennel Rub, Cooked Under a Brick
Celeste Mitchell won in our recipe contest for this outstanding grilled chicken. Celeste says "Using the 'under the brick' method I found on foodiekitchen.com, I created this recipe. A friend had given me some fennel pollen, and I decided to try it for this preparation. I love the results, hope you will, too."

You can mix fresh herbs and dried, using the measurements given. We used fresh rosemary and thyme, dried basil and fennel pollen, and our results were fantastic.


Yield 6 servings

Ingredients

1 whole chicken, 3.5 to 4 pounds
1 tablespoon minced garlic
1 tablespoon minced fresh rosemary, or 1 teaspoon dried
1 tablespoon minced fresh thyme, or 1 teaspoon dried
1 tablespoon minced fresh basil, or 1 teaspoon dried
1 tablespoon fennel pollen, or 1 teaspoon ground fennel seeds
½ teaspoon salt
1 teaspoon freshly ground black pepper
1 large lemon, divided use

Equipment: 2 bricks, aluminum foil
---
1
Butterfly chicken by cutting down the backbone (poultry shears are great for this), then laying skin side down, and pressing to flatten.
---
2
In a small bowl, mix garlic, herbs, fennel pollen, salt and pepper. Rub entire surface of chicken, inside and out, with this rub. Fold chicken back together, then wrap tightly in plastic wrap. Refrigerate for 1 to 8 hours.
---
3
Remove chicken from refrigerator. Prepare grill for indirect heat. Wrap bricks with heavy duty aluminum foil or 2 layers of regular aluminum foil.
---
4
Remove plastic wrap from chicken. Place chicken skin side down on grill, then place a wrapped brick on each side of chicken. Cover and grill for 10 minutes.
---
5
With pot holders, remove bricks from chicken, flip over, then again place bricks on chicken. Cover and grill for 10 minutes.
---
6
Repeat step 5, placing chicken skin side down once again, and grill for 10 more minutes. Then check the chicken for doneness. Grills vary widely in temperature – some will cook in 30 minutes, some will take much longer. If skin side is getting too brown, you can flip again until chicken is cooked.
---
7
Place skin side up on platter. Cut lemon into quarters lengthwise. Use one quarter to squeeze over chicken. Slice remaining quarters into wedges. Garnish platter with wedges and fresh herbs. Encourage diners to squeeze additional lemon over chicken.
---
---