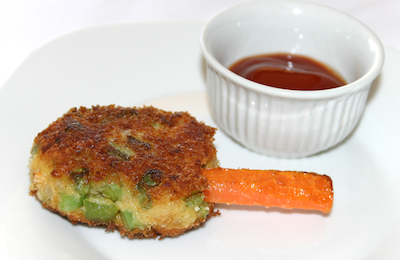 Vegetable Lollipops
This recipe was a winner in one of our contests for kid-friendly food. One of its great qualities is that you can adapt the basic idea to fit any taste. Take out the peppers and add diced bits of cooked broccoli or steamed peas. Remove the soy and add a bit of cheddar. You can eliminate the carrot sticks and just make nuggets instead of pops. Possibilities are endless.

GLUTEN-FREE: We made a gluten-free version by substituting brown rice flour for the all purpose flour and almond meal for the bread crumbs. Absolutely delicious!


Yield 10 pieces

Ingredients

1 tablespoon vegetable oil
1 teaspoon minced garlic
1 small onion, diced
1 small carrot, grated
1 cup cooked and mashed potato
1/2 cup chopped green beans
1 bell pepper, 1/4 inch diced
1 teaspoon minced jalapeno (optional)
1 teaspoon soy sauce
1 tablespoon chili sauce
salt and freshly ground pepper to taste
1/2 cup all-purpose flour
1 egg
1 large carrot, peeled and cut into 10 sticks
1/2 cup bread crumbs
Oil for frying
Tomato ketchup for serving (optional)
---
1
Heat oil in pan and saute the garlic and onion for 2 minutes.
---
2
Add grated carrot, potato, green beans, bell pepper, chili, soy sauce, chili sauce, salt and pepper. Cook for 3-4 minutes. Set aside to cool.
---
3
Sprinkle flour over mixture. Add egg and blend thoroughly.
---
4
Scoop golf ball size chunk (2-3 tablespoons) of mixture into hands and shape into a thick flat oval about 1/2 inch thick. Insert a carrot stick to create lollipop.
---
5
Heat oil for frying in a wide pan. Coat lollipop mixture with bread crumbs and fry in hot oil until golden brown.
---
6
Serve hot with ketchup if desired.
---
---