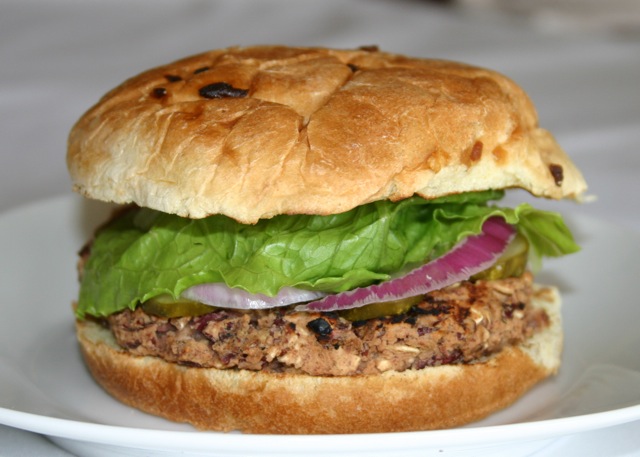 Kidney Bean Veggie Burgers
Taylor Brass won one of our recipe contests for this easy version of a kidney bean burger, which holds up surprisingly well on the grill. We love it on a toasted bun, dressed with sliced crunchy dill pickles, red onion, tomato and crisp lettuce.


Yield 4 servings

Ingredients

2 1/2 cups cooked kidney beans
1 tablespoon olive oil
2 tablespoons soy sauce
1/2 cup oats (plus more, if needed for handling)
2 teaspoons minced garlic
1 teaspoon onion powder
4 hamburger or sandwich buns
---
1
Mash kidney beans with a potato masher until somewhat smooth. Stir in olive oil and soy sauce until fully incorporated.
---
2
Mix in 1/2 cup of oats, garlic, and onion powder.
---
3
Divide mixture into four pieces. Using additional oats if needed to avoid stickiness, roll each piece into a ball and flatten into a patty. Place patties in the freezer for one hour, or until somewhat firm.
---
4
Preheat grill. Grill about five minutes on each side, or until browned and crisp.
---
5
Serve on buns with condiments and vegetables of your choice.
---
---