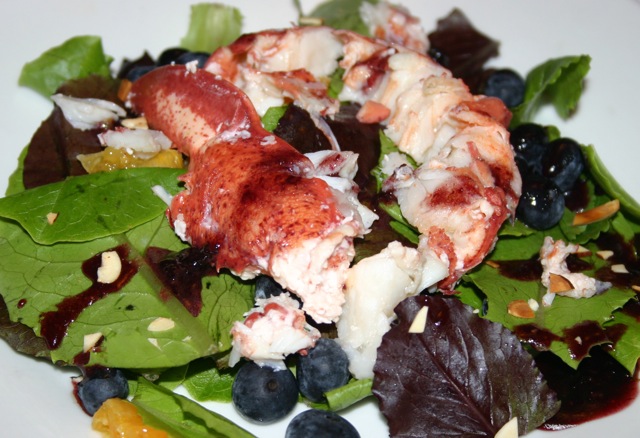 Lobster Salad with Wild Maine Blueberry Vinaigrette
We had a recipe contest category called Uniquely Summer in Your Neighborhood and Susan Gauthier won for her luscious salad that is totally representative of the wonderful foods of Maine. Susan says "In my Maine neighborhood, summers are ripe and overflowing with our world famous wild blueberries and the unique sweet lobster that graces our beautiful Maine coastline. This recipe offers the aesthetic foodie the crisp freshness of a summer salad combined with Maine ingredients, completed with a tangy, healthy vinaigrette finish." She also suggests substituting fresh cultivated blueberries for the wild Maine ones "if your not from these pahhts, as we say in Maine". Her beverage of choice with this salad is a frosty minted lemonade.


Yield 4 servings

Ingredients

10 ounces baby spinach, or mixed greens
1 pound fresh Maine lobster meat (approximately the meat from 2
one-and-a-half pound lobsters)
1 cup fresh Maine wild blueberries
2 navel oranges, peeled and sectioned (discard peels)

Vinaigrette:
1/4 cup Balsamic Vinegar
2 tablespoons Wild Blueberry Preserves (see note below for substitute)
1/2 teaspoon finely minced fresh ginger root
2 tablespoons sugar (can substitute stevia sweetener)
1 teaspoon dry mustard
1/4 teaspoon salt
1/4 teaspoon freshly ground black pepper
1/4 cup extra virgin olive oil

1 tablespoons coarsely chopped toasted walnuts or toasted sliced almonds
---
1
Divide spinach onto 4 plates. Divide Lobster over spinach.
---
2
Place fruit over and around lobster.
---
3
Make vinaigrette: Combine all vinaigrette ingredients, except the olive oil. Mix well. Whisk in olive oil until incorporated.
---
4
Drizzle salad with vinaigrette and sprinkle with a bit of toasted nuts.
---
---
notes If you do not have blueberry preserves on hand, make a quick microwave version: In a glass bowl, combine 4 tablespoons blueberries and 2 tablespoons sugar. Microwave on high for 2 minutes, stirring once. Let cool before adding 2 tablespoons of this mixture to your vinaigrette.
---