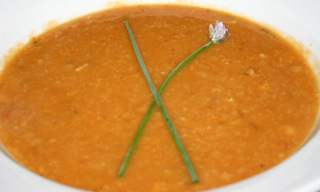 Bacony Garbanzo Bean Soup
I love this soup for a quick weeknight meal, as it comes together so easily. It is lighter in flavor than most bean soups. Pair with a crisp Caesar Salad and crusty bread for a satisfying dinner.


Yield 4 servings

Ingredients

1/3 cup diced bacon (approximately 2 ounces)
1 cup chopped onion
3 cloves garlic, minced
1 14-ounce can diced tomatoes
2 14-ounce cans garbanzo beans
5 cups vegetable or chicken broth
4 fresh sage leaves, chopped
Salt and freshly ground black pepper

Optional garnishes: Slivered basil leaves, rosemary sprigs, sage flowers, snipped chives
---
1
In a large pot over medium heat, cook the bacon until just done, but not crispy.
---
2
Turn heat to medium-low, then add onion and garlic and cook until translucent.
---
3
Add the tomatoes, beans, broth and sage and bring to a boil. Reduce heat to a low simmer, then cook, stirring occasionally, for 20 minutes.
---
4
Puree soup in batches in a blender or food processor. It does need to entirely smooth.
---
5
Season to taste with salt and pepper.
---
---