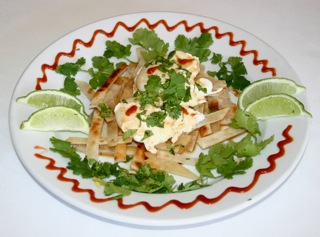 Thai Bird's Nest with Poached Eggs
Michael Cohen won our "Put an Egg on It" recipe contest with this delightful, yet easy-to-make dish that is perfect for breakfast or any other time of the day. For more information on how to poach eggs, including photos, see my blogpost, here.


Yield 2 servings

Ingredients

1/4 cup peanut oil (or vegetable oil)
2 8-inch flour tortillas, cut into strips.5 inch wide and 2 inches long
Salt, to taste +
1 1/2 tablespoon soy sauce
3/4 teaspoon Sriracha chili sauce (or other hot sauce), plus additional for serving and/or garnish
Pinch freshly ground black pepper +
3 tablespoons rice vinegar
1 1/2 teaspoon lime juice, plus lime wedges, for garnish
2 tablespoons unsalted butter, cut into pieces
4 fresh large eggs
2 tablespoons finely minced green onions
2 tablespoons fresh cilantro leaves, plus cilantro sprigs, for garnish
---
1
Heat a large skillet over medium-high heat. Add 2 tablespoons peanut oil. When hot, add 1/2 the tortilla strips and cook, stirring frequently, until lightly browned and crispy, about 30 seconds to 1 minute. With a slotted spoon or tongs, transfer tortilla strips to paper towels to drain. Add another 2 tablespoons oil to skillet and repeat with remaining tortilla strips. Lightly season tortilla strips with salt. Place equal amounts of tortilla strips on two separate serving plates and keep warm.
---
2
In a small saucepan over medium heat, combine soy sauce, Sriracha, black pepper, and 1 tablespoon rice vinegar. Cook for 2 minutes. Remove from heat. Add lime juice and stir in butter until melted. Season to taste, and add more of any ingredient you feel necessary to help balance the flavors.
---
3
Meanwhile, poach the eggs. Fill a large flat skillet with water (about 3 inches high), then add 2 tablespoons rice vinegar, and a large pinch of salt. Place saucepan over high-heat and bring to a boil, then reduce to a bare simmer so that the water no longer bubbles. Gently crack the eggs into a shallow bowl. With a large slotted spoon, swirl the water, creating a vortx, then slide the eggs into the center of the vortex. Cook for 3 minutes to 4 minutes or until whites are set but the yolks are soft. Remove poached eggs with a slotted spoon and transfer eggs to paper towels to drain briefly.
---
4
To serve, top each plate of tortilla strips with two eggs each. Drizzle both the eggs and tortilla strips with the sauce. Sprinkle the whole plate with green onions and cilantro. Garnish with lime wedges, cilantro sprigs, and Sriracha sauce, if desired.
---
---