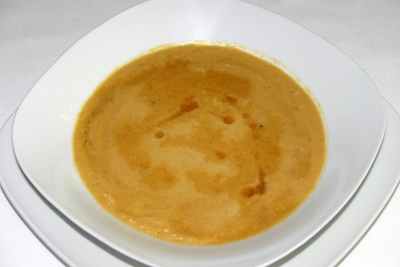 Roasted Cauliflower and Squash Soup with Apple Cider Syrup
Melissa McCabe won one of our recipe contests for this interesting soup that takes full advantage of autumn ingredients. The secret to getting maximum flavor here is roasting the veggies long enough to allow a rich brown color to form. Do not skip the apple cider reduction - it truly makes the dish!


Yield 8 servings

Ingredients

2 cups fresh apple cider
6 cups cauliflower florets
2 cups chopped sweet onion, such as Vidalia
1½ cup peeled and chopped winter squash, such as butternut
3 tablespoons extra virgin olive oil, divided use
1 teaspoon sea salt
½ teaspoon freshly ground black pepper
3 cloves garlic, chopped
5 cups vegetable stock
½ cup light cream
2 teaspoons lemon juice
½ teaspoon nutmeg
½ teaspoon cayenne pepper
Salt and pepper to taste +
---
1
Boil apple cider in a small saucepan until the liquid has reduced to approximately 3/4 cup (about 15-20 minutes). Set aside and let it cool completely.
---
2
Preheat oven to 400 degrees. In a large bowl, mix the cauliflower, chopped onion, and chopped squash, with 2 tablespoons of the olive oil, 1 teaspoon sea salt and 1/2 teaspoon black pepper. Spread on a cookie sheet and roast in oven until the cauliflower begins to brown, about 25 minutes. Remove from heat and set aside.
---
3
In a large Dutch oven, over medium heat, place 1 tablespoon olive oil. Add garlic and saute for one minute, stirring constantly. Add roasted cauliflower mixture and stock; raise heat and bring to a slow boil. Cover and reduce heat. Simmer about 15 minutes or until the squash is soft enough to mash and the cauliflower is very tender. Remove the pan from heat and let cool for 5 minutes.
---
4
Puree batches of the mixture in a food processor until smooth, then place in separate bowl. Once the soup is entirely blended, return soup to Dutch oven and add the light cream, nutmeg, and cayenne. Cook over medium heat for five minutes or until the soup is heated through.
---
5
Remove from heat. Stir in lemon juice and salt and pepper to taste.
---
6
Place in serving bowls, then drizzle with 2 to 3 teaspoons apple cider syrup.
---
---