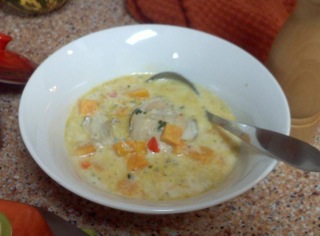 Butternut Oyster Stew
DuWayne Heupel won one of our holiday recipe contests for this fresh take on traditional oyster stew.


Yield 6 servings

Ingredients

4 tablespoons olive oil
1/4 cup minced shallots
3 cloves garlic, minced
1/2 cup minced celery
1/4 cup minced bell pepper (preferably red)
4 cups milk
2 tablespoons extra virgin olive oil
2 tablespoons minced fresh parsley
1 teaspoon Worcestershire sauce
1 cup cooked, diced butternut squash (roughly 1/2 inch cubes)
2 tablespoons corn starch
1/4 cup water
16 ounces fresh shucked oysters, with their juice
Salt and freshly ground black pepper, to taste
Pinch of Cayenne pepper
---
1
Place olive oil in a large pot over medium heat, then sauté shallots, garlic, celery, and bell pepper, until shallots are tender and slightly translucent.
---
2
Pour milk into pot. Mix in parsley and Worcestershire sauce. Stir frequently to ensure milk does not stick to bottom of the pot.
---
3
When the mixture is almost boiling, add the squash. Whisk corn starch into 1/4 cup water, ensuring there are no lumps, then stir into pot.
---
4
Continue stirring, When the mixture again returns to the near-boiling point, pour the oysters and their liquid into the pot. Season with salt, black pepper, and cayenne pepper.
---
5
Stir frequently until the oysters curl at the ends indicating the stew has finished cooking. Turn off the heat and let the stew stand for 10 minutes. Stir and serve.
---
---