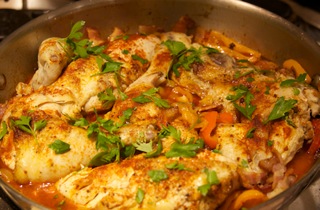 Poulet Basquaise (Basque Chicken)
I first had this dish at Bistro Clovis , a haven of authentic French cooking on Market St. in San Francisco. I love the rich sauce that is the product of bell peppers that have almost melted, accented with the smokiness of Spanish paprika. Serve over egg noodles or rice.


Yield 6 servings

Ingredients

2 tablespoons olive oil
4 ounces pancetta or serrano ham, cut in 1/4 inch dice
1 3 to 4 pound chicken, cut into serving pieces
Salt and freshly ground pepper
1 large onion, chopped
3 large bell peppers, preferably red (or try a combination of red, orange and yellow), thickly sliced
6 large cloves garlic, sliced
2 cups chopped tomatoes (can use one 15-ounce can diced tomatoes)
3 teaspoons Spanish (smoked) paprika, divided use
1/2 cup dry white wine
1/2 teaspoon crushed red pepper flakes
1/4 cup chopped parsley
---
1
Heat oil in large skillet over medium-high heat. Add pancetta and saute until browned. Remove from pan and set aside.
---
2
Sprinkle chicken pieces liberally with salt and pepper. Brown chicken in same pan until golden, about 5 minutes per side. Work in batches so as to not crowd the pan. Remove and set aside with pancetta.
---
3
Add onions, peppers, and garlic to pan, and saute over medium heat until peppers are soft. Add tomatoes (with their juice), wine, 2 teaspoons paprika and red pepper flakes and cook for 2 minutes. Add back the chicken and the pancetta, then cover and cook over low heat for 20 minutes. The sauce should taste rich and melded. Adjust seasoning with salt and freshly ground pepper, if desired.
---
4
Sprinkle the remaining 1 teaspoon paprika over the chicken pieces. Garnish with the chopped parsley.
---
---
notes A version of this recipe adapted for a slow-cooker can be found
here
---