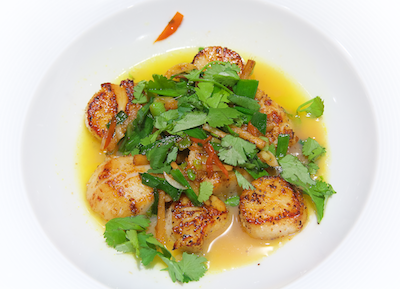 Coriander Crusted Scallops in Ginger-Orange Broth
After eating at Tampa's superb Restaurant BT, I could not stop thinking about the wonderful scallop dish I had, bright with the taste of ginger, chiles, and citrus. When I returned home, I recreated the recipe, which satisfied my craving for those flavors. You can make the broth and prep the vegetables well ahead of cooking the scallops, making this a perfect dish for entertaining, as the final cooking takes less than 10 minutes. Serve with steamed jasmine rice or steamed zucchini slices, which can be spooned right into the bowl to absorb some of the delicious broth. Barely steamed snap peas are also an excellent accompaniment. ~Joanna


Yield 2 servings

Ingredients

1/2 cup chicken or vegetable stock
1/2 cup orange juice
1 thick knob ginger, about 1 by 1-1/2 inches
1 Serrano pepper (red preferred)
1 large clove garlic
4 scallions
3/4 pound sea scallops (about 10)
salt and freshly ground pepper
1 teaspoon ground coriander
2 teaspoons sugar, preferably raw (turbinado)
2 tablespoons coconut or vegetable oil, divided use
1 tablespoon butter
1/4 cup minced cilantro
---
1
Pour stock and juice into a small saucepan.
---
2
Using knife, remove peel and any small side knobs from ginger. You should end up with approximately 2 tablespoons of trimmings. If not, add a small slice of ginger. Toss these trimmings into stock/juice mixture.
---
3
Remove stem end of Serrano chile and toss stem into stock. Gently simmer stock for 20 minutes, then turn off heat and let rest for 1 hour. Strain then set aside. You should have 1/3 to 1/2 cup of broth.
---
4
While stock is simmering, prepare vegetables: using mandolin or knife, cut ginger into thin julienned strips. Remove seeds and membrane from pepper, then slice into very thin strips and cut to 1-inch lengths. Thinly slice garlic. Combine ginger, pepper strips, and garlic in small bowl and set aside.
---
5
Prepare scallions by separating dark green ends from light bottoms. Thinly slice white/light green ends crosswise and set aside. Slice dark green parts into thin 1-inch long pieces and set aside.
---
6
Dry scallops. Sprinkle one side with salt and pepper. Turn over, repeat, then sprinkle ground coriander over scallops. Sprinkle sugar over tops.
---
7
Place large, heavy-bottomed skillet over medium-high heat. When hot, add 1 tablespoon oil and butter. When butter stops foaming, place scallops, coriander side down, into pan, making sure not to crowd them. Cook for 4 minutes, or until deep golden. Turn over, then cook for 1 minute more. Place in serving bowl or deep platter and keep warm.
---
8
While scallops are browning, reheat broth in a small pan or in a microwave.
---
9
After removing scallops from skillet, add remaining tablespoon of oil. Add ginger/garlic mix and stir for 30 seconds. Add light scallions pieces and stir 30 seconds more. Remove from heat and add dark green scallion pieces and stir.
---
10
Pour broth around scallops. Top scallops with the ginger/scallion mixture, then sprinkle with cilantro.
---
---