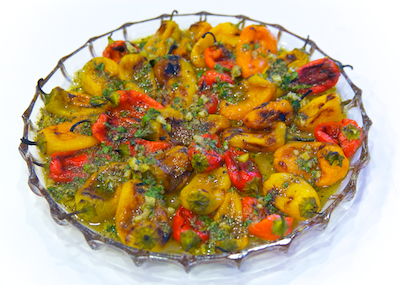 Roasted Baby Bells with Preserved Lemon Vinaigrette
You can make the peppers and the dressing up to 8 hours ahead, but don't dress the peppers until ready to serve. This is not a marinated dish; you want the contrast of the sweet peppers against the tangy dressing. Leave the stems on the peppers so folks can just pick them up and pop them into their mouths.
Dressing recipe adapted from Cooking at the Kasbah by Kitty Morse.

Yield 10 servings

Ingredients

2 pounds mini bell peppers

dressing:
4 cloves garlic, minced
1 tablespoon minced preserved lemon rind
1 1/2 teaspoons ground cumin
1/2 teaspoon salt
1/2 teaspoon freshly ground black pepper
2 tablespoons minced fresh parsley
1/4 cup olive oil
1/4 cup fresh lemon juice
---
1
Roast peppers: this can be done on a grill or under a broiler. Spread peppers in single layer directly on a grill or on a baking sheet under a broiler, expose to heat source, and turn as skin begins to blacken and blister. Place roasted peppers in a paper bag to sweat for 10 minutes.
---
2
Peel peppers. Since the mini bells have tender skins, it is not necessary to peel completely - just remove large blackened pieces of peel.
---
3
Place on a serving platter in a single layer.
---
4
Make dressing: whisk together ingredients, or put in jar and shake.
---
5
Pour over peppers and serve at room temperature.
---
---
notes Quick Preserved Lemons: If you don't have preserved lemons, you can approximate their flavor by slicing 1 lemon into 1/4-inch rounds, placing in a small skillet, then add 1/2 cup lemon juice and 1 tablespoon salt. Simmer until just tender, then allow to cool.
---