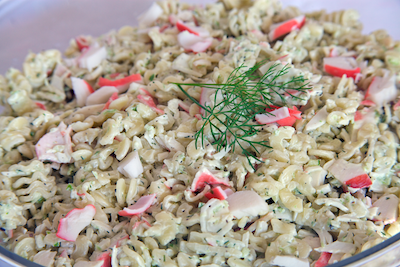 Potluck Pasta Salad with Mock Crab and Dill
My most-requested dish for summertime potluck picnics, even by my pals who might shun mock crab is this economical, quick to make dish. Kids love it, adults crave it. To keep bowl chilled at a table, place it inside another bowl filled with ice. ~Joanna


Yield 16 servings

Ingredients

1 pound radiatori pasta (or penne, farfalle, fusilli, campanelle)
1 pound mock crab
1 cup mayonnaise
1/4 cup finely minced onion
1 cup minced celery, about 3 large stalks
1 1/2 teaspoons dried dill (1 tablespoon fresh dill can be used instead)
1/2 teaspoon salt
1/4 teaspoon freshly ground black pepper
---
1
Cook pasta according to package directions, rinse cold and drain.
---
2
Place pasta and crab in large mixing bowl.
---
3
In separate bowl, combine mayonnaise with remaining ingredients. Add to pasta and crab bowl. Stir gently and combine thoroughly. Taste for seasoning, being careful not to over-salt. Dill brings out more saltiness as the flavors develop.
---
4
Chill for at least 1 hour, then serve.
---
---
notes NOTE Imitation Crab is actually fish, most commonly Alaskan Pollack.
---