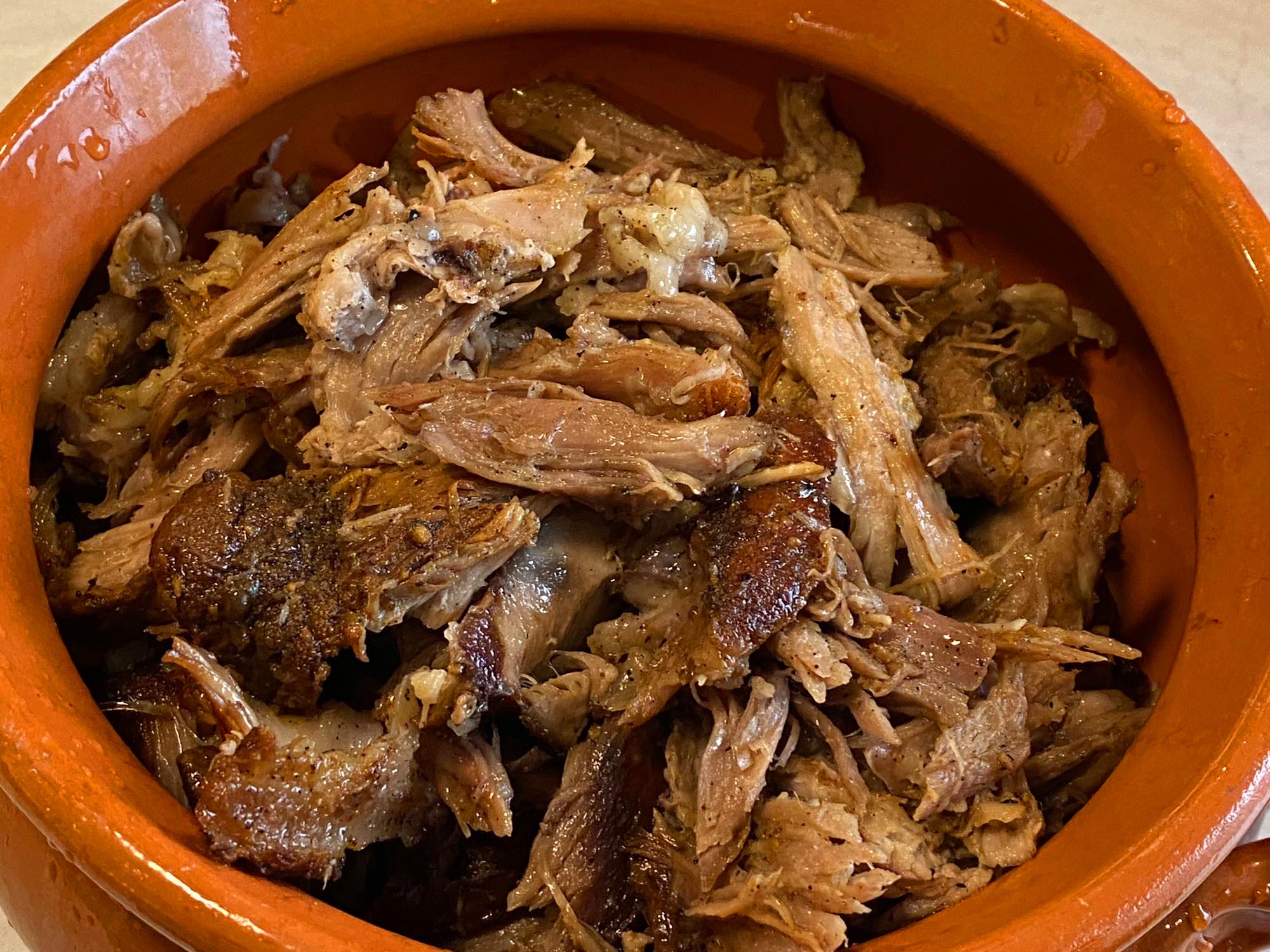 Oven Braised Pulled Pork
This is great to serve when you are entertaining, as after the first 45 minutes, you can just let it cook with no attention whatsoever. It also can hold in a warm oven, covered, after the shredding step for up to 1 hour. The long roasting in the oven will bring the meat to the point that when you pull it with a fork it falls off bone. Eat roasted pork as a main dish, or shred it for sandwiches. Depending on the fat content and bone size, this recipe serves 8, but could easily serve 12.

Gluten-Free Variation: Replace beer with 1.5 cups white wine.

Carnitas Style: Definitely include chile powder, and replace beer with 3/4 cup white wine and 3/4 cup orange juice. Throw a few bay leaves in bottom of pan before pouring the liquid over all.


Yield 8 servings

Ingredients

1 pork shoulder, 5 pounds
1 tablespoon garlic powder
3 tablespoons salt
1 tablespoon black pepper
2 tablespoons chile powder (optional)
1 bottle dark beer 12 ounces
1 cup of a sweet-tangy barbecue sauce, plus more for passing at table
---
1
Preheat oven to 500°.
---
2
Season pork with garlic powder, salt, black pepper and chile powder. Place pork in roasting pan.
---
3
Roast pork 45 minutes, until very dark. The crispy edges that are forming will provide delicious flavor in your final product.
---
4
Remove from oven, pour beer over top, and wrap tightly with heavy duty aluminum foil. Poke a dozen holes in the top of the foil to allow some steam to vent. Reduce oven temperature to 325°, place pork back in oven, then cook for 3 hours.
---
5
Remove from oven and carefully remove foil. Using two forks, pull pork apart, shredding and mixing with pan juices.
---
6
Depending on your taste, either add barbecue sauce and toss again or pass the sauce at the table.
---
---