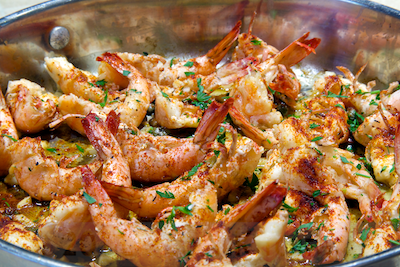 Shrimp Scampi in Shell
Shrimp butterflied, cooked in their shell, have a taste reminiscent of lobster tails. As a line-chef in a California restaurant, Mark learned to make scampi and has since evolved it into a savory, luscious dish. The buttery sauce is delicious over rice. This spicy dish is best complemented by simple steamed green beans. Although one typically serves seafood with white wine, the zingy paprika demands a red.


Yield 4 people

Ingredients

1 pound shrimp in shells, butterflied - 15 per pound
4 tablespoons butter
3 tablespoons olive oil
2 tablespoons fresh lemon juice, Meyer lemon preferred
2 tablespoons garlic, minced - about 4 large cloves
1 teaspoon thyme leaves
1 tablespoon capers
1 teaspoon hot paprika, smokey for full flavor
1/2 teaspoon sweet paprika
1/3 cup dry white wine
1/4 teaspoon freshly ground black pepper
1/8 teaspoon salt
1 tablespoon chopped parsley
---
1
Butterfly shrimp with a sharp chef's knife. Place shrimp shell side down, plant point of knife in the tail, and slice down between legs, but not through the shell. Flatten halves, removing any vein or intestine. Place butterflied shrimp on a board and flatten halves out.
---
2
Preheat large skillet over medium heat. Add butter, olive oil, lemon, and half of the minced garlic.
---
3
When oil is sizzling, place shrimp, shell side down, in pan and cook 3 minutes, until shell begins to turn pink. Add capers, thyme, and remaining garlic.
---
4
Turn shrimp over, shell side up. Add wine and cook for another 3 minutes.
---
5
Turn shrimp, shell side down. Cook 2 minutes, giving shrimp light gold edges.
---
6
Scoop the pan sauce over shrimp, then sprinkle on paprika. Finish with pepper, salt, parsley. Serve immediately in pan at table.
---
---
notes Smokey paprikas add even greater flavor. Save time by using "easy-peel" shrimp. These have been cut on the back and deveined with water pressure.
Shrimp must be cleaned of their digestive tract that runs along the back. One technique is to cut through the back taking care that the shells are joined at the tail.
---