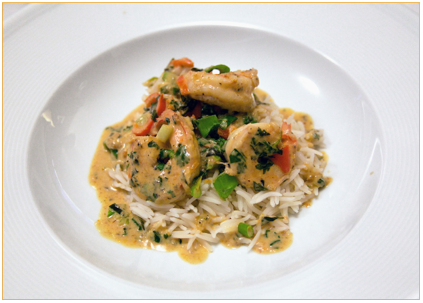 Shrimp in Coconut Lime Curry
Coconut milk, rich and smooth with the exotic flavor of kaffir lime, creates a bright dish that has been requested often. As curry pastes vary widely in flavor and heat, adding the chile in the recipe is up to you. Serve in a pasta bowl over jasmine rice, with steamed veggies on the side - zucchini is excellent. I use Mae Ploy pastes, but Mesri is also very good. ~Joanna


Yield 4 servings

Ingredients

1-1/4 pounds of large shrimp (16-20 count), shelled and deveined
1/2 teaspoon freshly ground black pepper
3 tablespoons coconut oil
1-1/2 tablespoons green Thai curry paste
1 tablespoon red Thai curry paste
1-1/2 cups thinly sliced red bell pepper
1 tablespoon chopped chile pepper, Thai or jalapeño (optional-see note about curry pastes, above)
4 scallions, sliced, white parts separated
2 cups unsweetened coconut milk
1/2 cup chicken stock or water
5 Kaffir lime leaves, sliced into fine threads (I use scissors)
1/2 cup chopped basil, preferably Thai
1 cup chopped cilantro
1 tablespoon chopped mint
1 tablespoon fresh lime juice
---
1
Over medium-high heat, place 1 tablespoon coconut oil in a large skillet. Sprinkle black pepper over shrimp, then add to pan. Just barely cook and remove to a plate.
---
2
Add 1 tablespoon of coconut oil to pan, then add curry pastes, cooking until fragrant. Add another tablespoon of oil if needed. Add bell peppers, white parts of scallion, and chile pepper. Sauté 3 minutes.
---
3
Meanwhile, toss basil, cilantro, and mint together in a bowl.
---
4
Add coconut milk, chicken stock, and kaffir lime leaves to pan. Bring to bubbling, then reduce heat and simmer until peppers are tender. Taste and add more curry paste if needed.
---
5
When taste is right, add shrimp back to pan; just heat through. Stir in most of the herb mixture, reserving a few tablespoons for garnish.
---
6
Remove from heat, stir in lime juice, then garnish with reserved herbs and green parts of scallions.
---
---