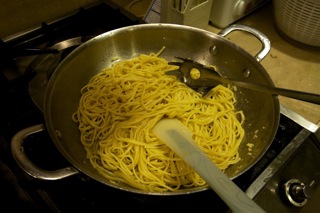 Vietnamese Garlic Noodles
The An family of San Francisco, owners of Thanh Long and Crustacean restaurants, make a well-loved garlic noodle dish from a secret family recipe. This tastes superb when served with Vietnamese Pepper Crab.


Yield 4 servings

Ingredients

1/2 pound chow mein or spaghetti noodles
2 tablespoons butter
2 tablespoons vegetable oil
8 large cloves garlic, minced
1 tablespoon oyster sauce
1 teaspoon chicken bouillon paste
1/4 cup grated parmesan cheese
2 tablespoons sliced scallions, green parts only
---
1
Boil noodles according to package directions.
---
2
In large wok or skillet large enough to hold noodles, over low heat, melt butter, olive oil and add garlic. Heat slowly until fragrant, taking care not to burn garlic.
---
3
Increase heat to medium-high. Add oyster sauce and chicken bouillon. Heat about 1 minute.
---
4
Add noodles, stirring until they are well coated and heated through.
---
5
Sprinkle with parmesan and toss. Top with scallions and serve immediately on a warm platter.
---
---
notes Sometimes I mix a tablespoon of Chardonnay, Sherry, or Sweet Rice Wine with the chicken bouillon.
---