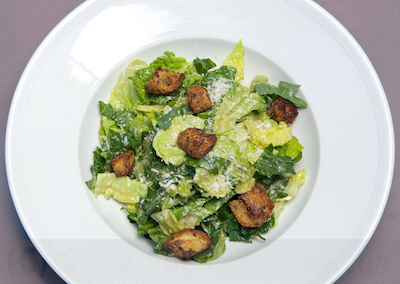 Kale Caesar Salad with Mustard Croutons
Kale adds a delicious earthiness to Classic Caesar Salad, well complemented by this lemony dressing. Croutons made with day-old artisanal loaves or English muffins have a rougher texture and hold the mustard dressing, adding a nice pop of flavor to every bite.


Yield 4 servings

Ingredients

1 large head Romaine lettuce, washed and dried
1 cup torn kale leaves
1 clove garlic, minced
1/8 teaspoon salt
1 teaspoon Dijon mustard
3 tablespoons lemon juice
1/2 teaspoon Worcestershire sauce
freshly ground pepper, to taste
1 teaspoon anchovy paste
1/4 cup olive oil
1 egg
1/3 cup grated Parmesan cheese

croutons
2 teaspoons Dijon mustard
2 teaspoons whole-grain mustard
1/4 cup olive oil
1 cup bread cubes or torn bits of bread, approximately half-inch in size
pinch of salt
freshly ground black pepper
---
1
To make croutons, preheat oven to 400°F.
---
2
In a bowl, whisk together mustards and olive oil. Toss bread cubes in this mixture, then spread on a baking sheet.
---
3
Place dressed bread cubes in an oven and bake for 10 to 12 minutes, until edges start to brown a bit. Remove from oven. Set aside, they will crisp as they cool.
---
4
Heat a small pan of water to boiling for your egg.
---
5
Meanwhile, mash garlic with salt in a large wooden or glass bowl. Add mustard, lemon juice, Worcestershire sauce, pepper, and anchovy paste. Whisk until smooth.
---
6
Whisk in olive oil until emulsified.
---
7
Lower egg into boiling water for 1 minute, then quickly remove, crack open and whisk egg into dressing mixture.
---
8
Add lettuce, kale, and most of the cheese. Toss to coat greens with dressing. Add croutons and toss twice. Top with reserved cheese. Serve immediately.
---
---