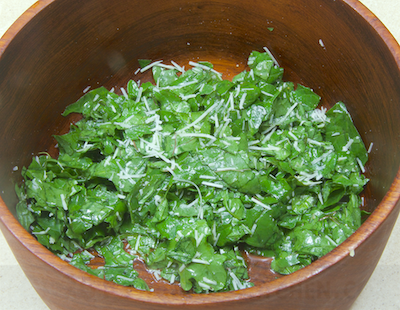 Kale Pecorino Salad
This simple-to-make salad delivers a lot of flavor. Salty, nutty Pecorino Romano is the perfect cheese to pair with kale. The salad needs no further adornment than a lemony vinaigrette. However, since I like variety, I have on occasion substituted feta cheese, then added pine nuts or sliced almonds. ~Joanna


Yield 4 servings

Ingredients

5 cups torn tender kale leaves
3 tablespoons lemon juice, divided use
pinch of sugar or honey
1/4 cup olive oil
1/4 cup grated Pecorino Romano cheese
freshly ground black pepper
---
1
In a salad bowl, toss kale leaves with one tablespoon of lemon juice. Let rest for 30 minutes. This will tenderize the kale a bit and add a lot of flavor.
---
2
Make vinaigrette: Whisk together remaining lemon juice, sugar, and olive oil.
---
3
Add cheese, a few grindings of pepper, and toss.
---
---