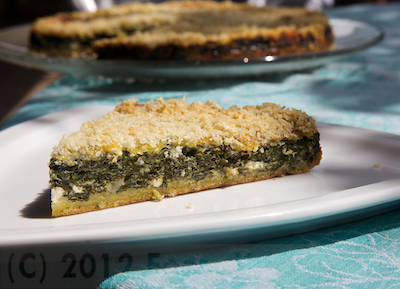 Chard and Feta Tart
This is my go-to recipe when the garden is flush with Swiss chard or other greens. The tart can be prepared with any combination of chard, kale or spinach, and the feta can be swapped out for whatever cheese you have on hand. I have made it with ricotta, cheddar and even fresh mozzarella. The crust on top is essential, so parmesan or pecorino romano should be used. Panko lends a nice crunch, but any breadcrumbs will do. This dish freezes exceptionally well - cut into portions, then wrap each tightly and freeze. Adapted from Mario Batali's recipe - Pasticcio di Bietole al Forno.


Yield 6 servings

Ingredients

3 tablespoons extra-virgin olive oil
1 cup chopped onion
1 1/2 pounds Swiss chard, trimmed of tough stems and roughly chopped
3 large garlic cloves, minced
4 large eggs
2 ounces feta cheese, crumbled
1/4 teaspoon dried oregano
1 tablespoon lemon juice
Salt and freshly ground black pepper
1 cup panko bread crumbs
3/4 cup freshly grated Parmigiano-Reggiano
Lemon wedges, for serving (optional)
---
1
Heat olive oil in large skillet over medium heat. Add onions and sauté for 3 minutes. Add chard and garlic and cook for 10-15 minutes, until chard is tender. Remove from heat and cool.
---
2
Preheat oven to 350°. Oil a 10-inch round baking dish or pie plate.
---
3
In a mixing bowl, lightly beat eggs, then add chard, feta, oregano and lemon juice. Sprinkle with a bit of salt and a several grinds of black pepper. Stir to combine.
---
4
Sprinkle 1/2 cup bread crumbs evenly over bottom of baking dish. Gently place chard mixture over top. Sprinkle evenly with Parmigiano cheese, then with remaining bread crumbs.
---
5
Bake for 45 minutes, until set and golden brown on top.
---
6
Serve warm or at room temperature, allowing guests to squeeze lemon wedges over tart slices, if desired.
---
---