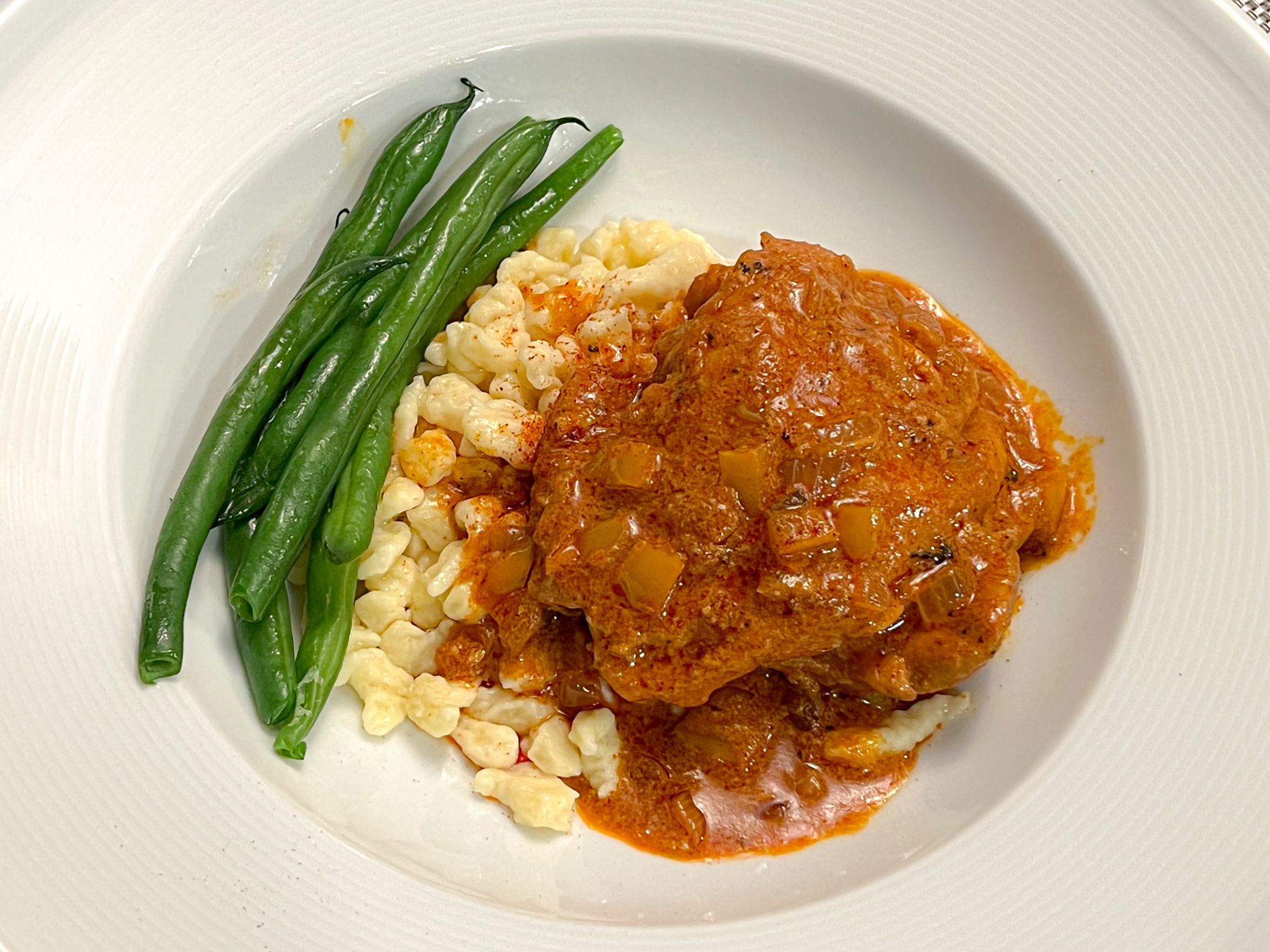 Chicken Paprikash with Nokedli
Amazing combination of chicken with a wicked sauce, heavenly when enjoyed with nokedli, a Hungarian version of spätzle. Nokedli is best when using regular yogurt. If Greek yogurt is all you have, you may need to add a bit of water to get the right consistency (see step 4). If you want to bypass making nokedli, you can use any noodle as long as it is boiled to the optimal point just beyond al-dente. If using bone-in breasts instead, reduce cooking time to 20 minutes. Adapted from NoRecipes.com.


Yield 4 persons

Ingredients

2-3 pounds bone-in, skin-on chicken thighs or leg quarters
salt and freshly ground black pepper
1 tablespoon neutral oil
1 large onion, diced
1 bell pepper (any color), diced
4 tablespoons paprika
1 cup chicken stock
1 tablespoon flour
1/2 cup sour cream (or yogurt)

nokedli:
1 cup flour
pinch of salt
2 large eggs
1/4 cup plain yogurt
---
1
Season chicken with salt and pepper. Heat a heavy-bottomed pot until very hot. Add oil, place the chicken in the pot, skin side down (you may have to do this in batches, depending on your pot size). Fry undisturbed until well browned, then flip and brown other side. Transfer chicken to a plate.
---
2
Lower heat, then add onions and bell pepper to the pot. Sauté until very soft, scraping up the browned bits left by the chicken.
---
3
Add paprika and continue frying for 2 minutes or until paprika is very fragrant. Add chicken stock, stir, then return the chicken to the pot, pushing it to the bottom. Keeping heat low, simmer, covered, until chicken is very tender and falls off the bone when prodded with a fork, approximately 30 minutes.
---
4
To make nokedli, put flour in a bowl. Add eggs and 2 tablespoons yogurt, mixing to combine. Add additional yogurt, 1 tablespoon at a time, until dough is very wet and soft but not runny. You may not use the full 1/4 cup, or you may find you want a bit more. It should be the consistency of pancake batter. Let the dough rest while the chicken cooks. Boil a large pot of salted water for use when chicken is almost done.
---
5
If you don't have a spätzle maker, make dumplings with a potato ricer fitted with a plate with pea-sized holes spaced far apart. Just load the dough and extrude little blobs into boiling water. No ricer? Take a spoon. Flick small bits of dough off the side of the spoon into the water. They are done when they float to the top, about 5 minutes. Use a slotted spoon to transfer nokedli to a bowl containing some butter or olive oil. Toss and cover to keep warm.
---
6
In a small bowl, whisk 1/2 cup sour cream with 1 tablespoon flour. Add a few spoonfuls of the pot's braising liquid to the bowl and combine. While whisking, continue adding a little more liquid until sour cream-flour mixture is a thick roux. The braising liquid tempers the sour cream, preventing it from curdling and preventing the flour from forming lumps. Stir roux into chicken pot. When sauce thickens, in about 5 minutes, it is ready to serve.
---
---