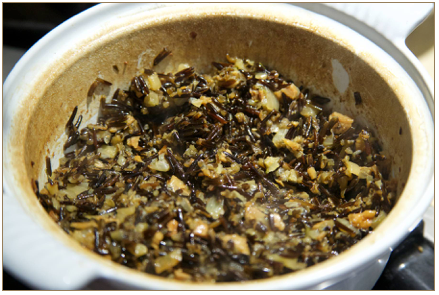 Porcini Wild Rice
Wild rice with earthy mushrooms is exceptional and goes well with duck. Wild rice also takes far more time to cook than basic rice, so allow 90 minutes for the process.


Yield 2 servings

Ingredients

3/4 cup wild rice, rinsed
1/4 oz dried porcini mushrooms, rinsed and minced
1-1/2 tablespoons unsalted butter
1/2 onion, minced (alternatively, the white part of a leek)
1/4 teaspoon thyme (bay leaf can be substituted)
1-1/2 cup water or chicken stock
1/4 teaspoon sea salt
---
1
Preheat oven to 375°F.
---
2
Put rice in the bottom of a crockery or glass baking dish.
---
3
In a medium saucepan, cook onion in butter until slightly browned. Add mushrooms, herbs, and salt. Cook until fragrant.
---
4
Add water or chicken stock. Cover and bring to a full boil, then pour over the rice baking dish.
---
5
Cover with a heavy, tight-fitting lid or double thickness aluminum foil.
---
6
Bake about 75 to 80 minutes.
---
7
Let stand for 10 minutes before serving.
---
---
notes NOTE A substitute for porcini mushrooms is 1/4 cup sliced white mushrooms with 1 tablespoon porcini mushroom powder.
---