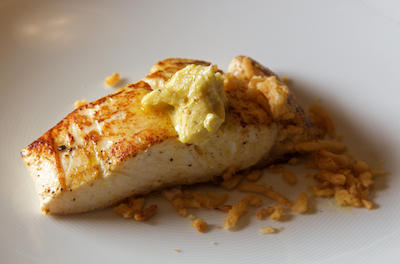 Halibut with Lemon Butter and Shallot Crisps
Pan-searing after a quick marinade produces a moist and tender halibut. The lemon butter and crispy shallots take the flavor over the top! If you don't have shallots or are short on time, use purchased crispy onions. Adapted from a Giada De Laurentis recipe.


Yield 4 servings

Ingredients

halibut:
1/4 cup extra-virgin olive oil
2 tablespoons fresh lemon juice
1/4 teaspoon kosher salt
1/4 teaspoon freshly ground black pepper
2 large cloves garlic, smashed
4 halibut fillets (each 4 to 5 ounces)

lemon butter:
1 tablespoon fresh lemon juice
1/4 teaspoon kosher salt
1/4 teaspoon freshly ground black pepper
1 zest of large lemon
1/2 stick unsalted butter, at room temperature

shallots:
1/2 cup vegetable oil
2 large shallots, cut into rounds, separated into rings

lemon wedges for garnish (optional)
---
1
Halibut preparation: Whisk olive oil, lemon juice, salt, pepper, and garlic in a glass dish. Add halibut, turning to coat evenly. Refrigerate 30 minutes.
---
2
Lemon butter preparation: In a bowl, whisk together lemon juice, salt, pepper, lemon zest, and butter until blended and thick. Set aside.
---
3
Shallot preparation: In a heavy saucepan over medium-high heat, cook oil and shallots, stirring often until shallots turn golden brown, 5 to 7 minutes. Transfer shallots to paper towels to drain. Season with salt and pepper.
---
4
Heat large nonstick skillet over medium-high heat. Lift and drain halibut from marinade. Sear fish in hot skillet for 3 minutes. Turn fish over. Sear until still slightly pink in the center, about 3 minutes. If filets are 1 inch or thicker, add a tablespoon of water, then cover briefly to steam, about 2 minutes.
---
5
Presentation: transfer halibut to plates. Top with a generous dollop of lemon butter and pile shallots alongside fish. Garnish with lemon wedges and serve.
---
---