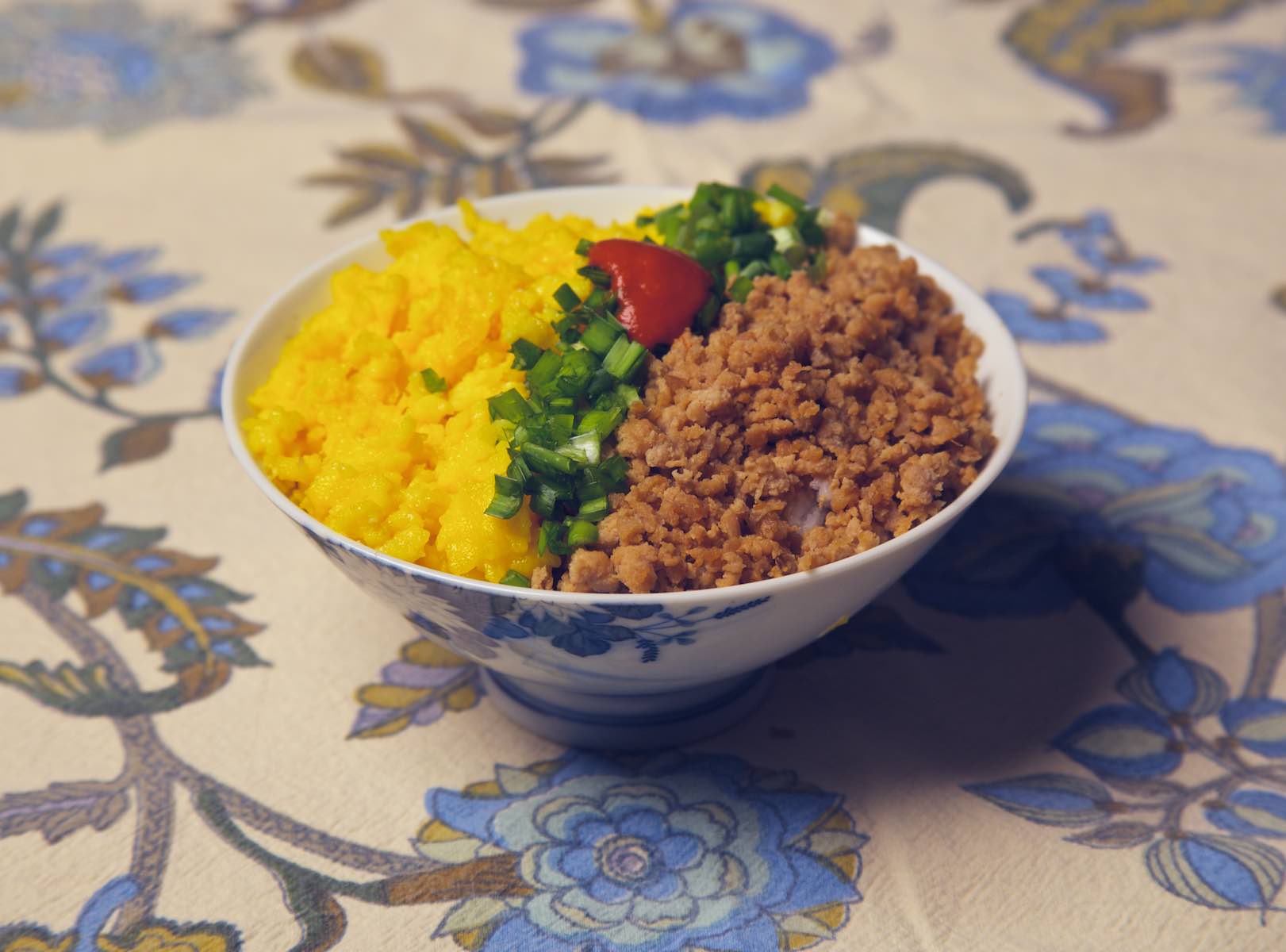 Soboro Don (Chicken and Egg Bowl)
Fast and simple, with chicken on one side and egg on the other, this dish is flavorful. You can substitute ground pork or turkey for the chicken. If you feel you need another dish to accompany, this goes well with steamed snap peas.


Yield 4 servings

Ingredients

chicken:
4 tablespoons sake (or water)
2 tablespoons + 2 teaspoons soy sauce
4 teaspoons sugar
1 tablespoon freshly grated ginger
1 pound ground chicken
2 teaspoons sunflower or peanut oil

egg:
5 large eggs
1/4 teaspoons salt
2 teaspoons sugar

bowl:
4 cups (or more) cooked short-grain rice
4 tablespoons chopped scallions or chives
Sriracha or other hot sauce (optional)
---
1
Combine sake, soy sauce, sugar, and grated ginger in large frying pan. Add chicken, and mix well with sauce, breaking up until chicken is loose and granular. Let marinate while preparing eggs.
---
2
Beat eggs, salt, and sugar together until it is a uniform color.
---
3
Slowly cook ground chicken over low heat while breaking up any chunks that form. As chicken cooks, liquid will come out and will look almost soupy.
---
4
Once meat is cooked through (it only takes a few minutes), turn up heat to high and boil off all liquid. When liquid has evaporated, add oil and stir. Fry chicken until it browns and sauce has caramelized; stir to prevent scorching.
---
5
Pour eggs into a non-stick pan and turn heat to medium-low. Once eggs start to set in the middle, use a whisk or chopsticks to vigorously scramble eggs making small grains of egg about the size of the ground meat.
---
6
Presentation: fill each bowl halfway with rice. Put egg on one side, chicken on the other. Garnish with scallions down the middle. Add dab of hot sauce.
---
---
notes Recipe adapted from Chef Marc Matsumoto at http://norecipes.com/recipe/soboro-don-chicken-rice-bowl/
---