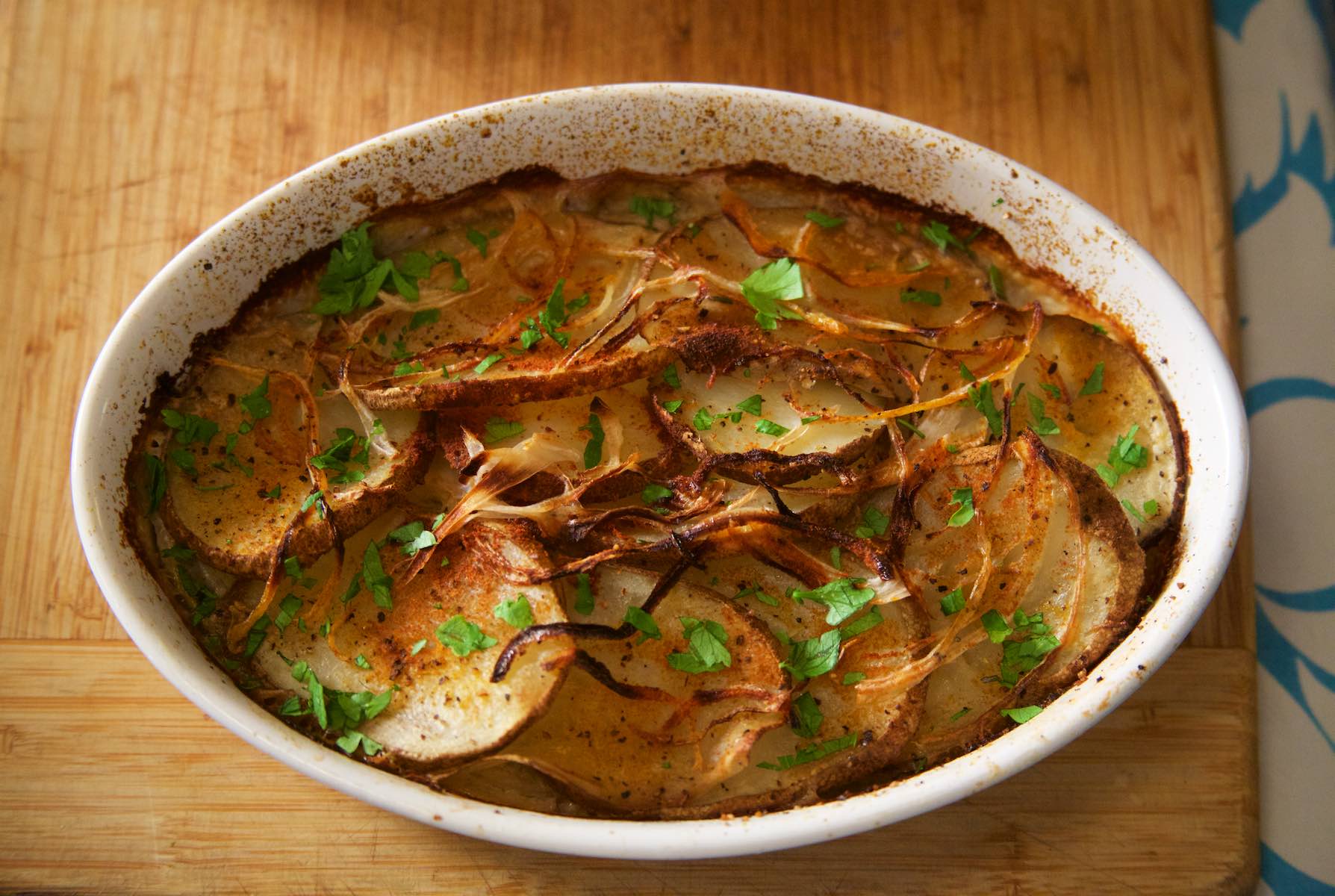 Scalloped Potatoes
This is the essential scalloped potato recipe - no herbs other than a garnish, no cheese or heavy sauce. Just the pure flavor of potatoes, enhanced by a bit of onion, milk and butter.


Yield 2 servings

Ingredients

1 large russet potato (14-16 ounces)
1/4 large onion
1/2 cup milk
1 tablespoon butter
1 tablespoon flour
Salt and pepper +
Paprika for sprinkling on top (optional) +
Parsley, chopped, for garnish (optional)
---
1
Preheat oven to 400°. Oil a 1-quart baking dish.
---
2
Slice potatoes crosswise 1/4 inch thick (a mandolin works great for this.) Slice onion very thinly.
---
3
Heat milk and butter together until butter melts.
---
4
Lay half the potatoes in the casserole, overlapping. Season with salt and pepper, to taste, then top with half the onions.
---
5
Place the flour in a tea strainer and tap over the top of the onions, covering the entire surface.
---
6
Add remaining potatoes, then top with remaining onions. Pour milk and butter over all, then season again with salt and pepper. Sprinkle with a bit of paprika, if desired.
---
7
Cover with foil and bake for 30 minutes, then remove foil and bake for 20-30 minutes longer, until bubbly, tender, and well-browned.
---
8
Garnish with chopped parsley, if desired.
---
---