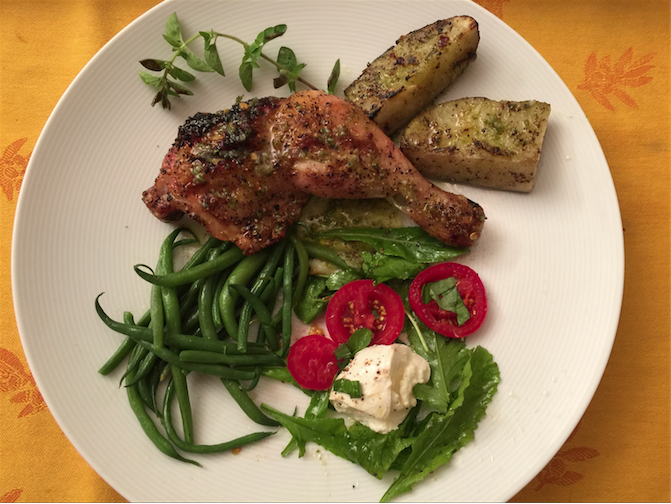 Grilled Chicken and Potatoes with Garlic Herb Vinaigrette
Simple to make, extraordinarily delicious. Adapted from Bobby Flay's recipe, where he uses bone-in breasts and fingerling potatoes. On the plate in the photo are simply steamed green beans, and a burrata salad with garden arugula and tomatoes drizzled in olive oil.


Yield 4 servings

Ingredients

roasted garlic-oregano vinaigrette:
8 large cloves roasted garlic
1/4 cup white wine vinegar
2 tablespoons fresh oregano leaves
2 tablespoons fresh basil leaves (or parsley)
1 tablespoon honey
1/2 teaspoon kosher salt
3/4 cup olive oil
1/4 teaspoon red chile flakes

grilled chicken and potatoes:
1 large russet potato
1 teaspoon salt
2 teaspoons white vinegar
1 tablespoon olive oil
4 chicken leg quarters
Salt
Freshly ground black pepper +
Fresh oregano sprigs, for garnish +
Fresh basil sprigs, for garnish +
---
1
Roasted garlic-oregano vinaigrette: Combine garlic, vinegar, oregano, basil, honey and salt in a blender and blend until smooth. With the motor running, slowly add the oil and process until emulsified. Stir in the red chile flakes.
---
2
Cut potato into quarters and place in a medium saucepan. Cover with cold water and add 1 teaspoon of salt and 2 teaspoons white vinegar.
---
3
Bring to a boil over high heat, reduce heat to simmer, then cook until barely tender. Do not overcook, as you want them to hold together on the grill. Drain, then cover with cold water and let rest for 3 minutes. Drain again, then cut each quarter in half lengthwise, producing 8 large wedges in total. Toss with olive oil.
---
4
Heat the grill to medium, then oil it.
---
5
Season the chicken and potatoes with salt and pepper. Place the chicken on the grill, skin-side down, and grill until golden brown and slightly charred, 6 to 7 minutes.
---
6
Turn the chicken over, grill another 7 minutes, then turn again and grill 7 minutes more. During the last 7 minutes, place the potatoes on the grill, making sure one of the cut sides is resting on the grill. After 4 minutes, turn to grill the other cut side, and cook until lightly golden brown.
---
7
Remove the chicken and potatoes to a platter and immediately drizzle with the roasted garlic-oregano vinaigrette.
---
8
Garnish with oregano sprigs and basil sprigs.
---
---