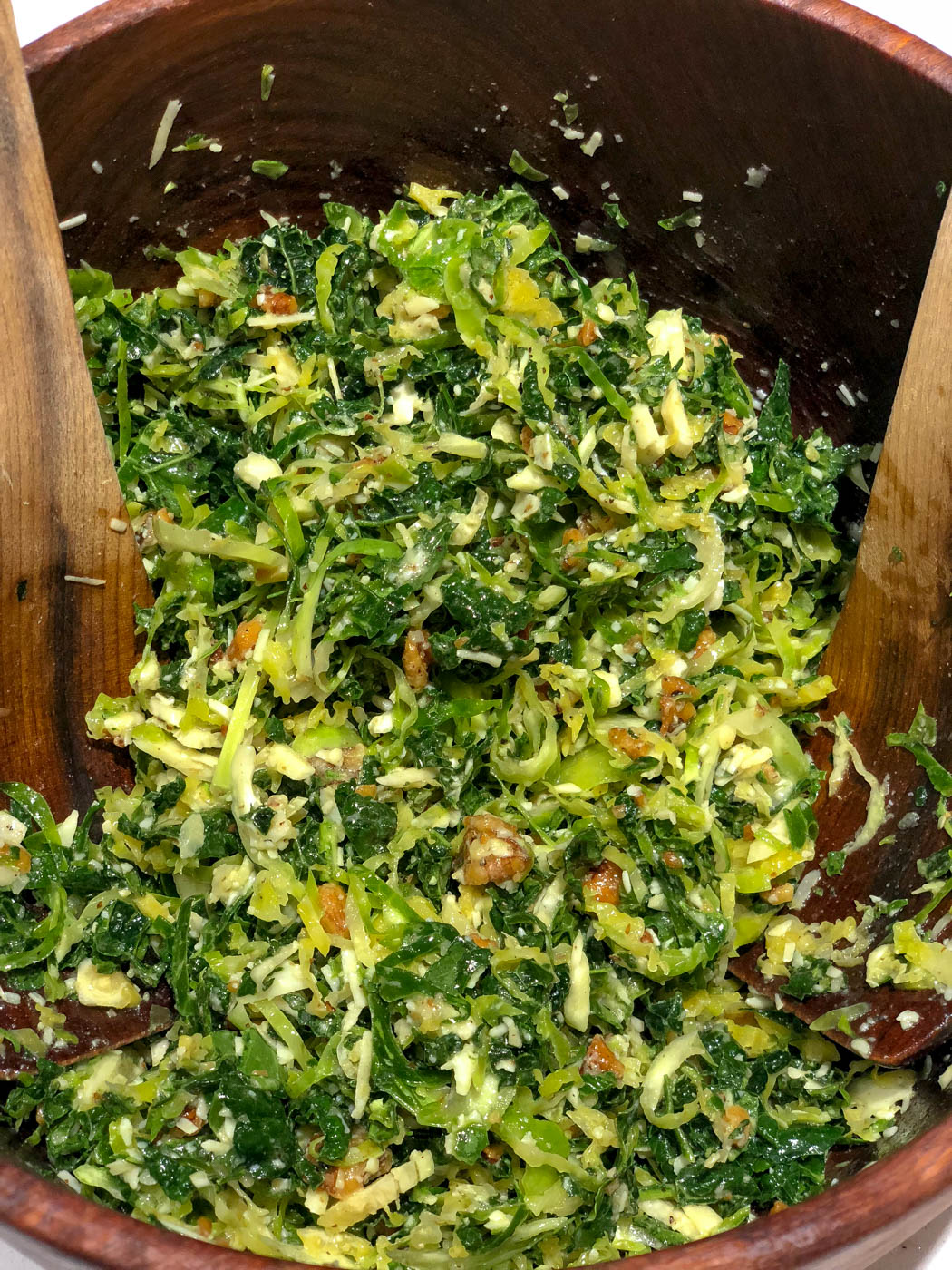 Brussels Sprout and Kale Salad with Lemony Vinaigrette
Shaved Brussels sprouts make a delicious salad when combined with sliced kale, toasted walnuts, and a lemon-mustard vinaigrette. While it can be served immediately, it is enjoyed best when allowed to stand for at least 30 minutes. I like it even better the next day.


Yield 6 servings

Ingredients

salad:
1/2 cup walnuts, chopped
8 ounces Brussels sprouts, trimmed, halved and thinly sliced
5 ounces kale (about 1 large bunch), thick center ribs removed, leaves thinly sliced
1/2 cup coarsely grated or chopped Parmigiano Reggiano cheese

dressing:
1/4 cup fresh lemon juice, from about 2 lemons
1/2 cup extra virgin olive oil
1 tablespoon Dijon mustard
2 tablespoons finely chopped shallot
1 small clove garlic, minced
1/2 teaspoon salt
1/4 teaspoon freshly ground black pepper
---
1
Preheat oven to 350°F. Line a baking sheet with aluminum foil.
---
2
Toast walnuts for 8-10 minutes, stirring halfway through,until toasted and fragrant.
---
3
Combine shaved Brussels sprouts and sliced kale in a large bowl.
---
4
Make dressing by mixing all of the ingredients in a small bowl. Pour over the vegetables.
---
5
Add most of the walnuts and cheese, reserving some to garnish the platter, and toss well.
---
6
Let the salad sit at room temperature for at least 30 minutes (or up to a few hours in the fridge) to allow the flavors to meld and the vegetables to soften.
---
7
Taste and adjust seasoning if necessary. Transfer to a serving dish and scatter the remaining walnuts and cheese over top.
---
---
notes Use any fresh kale: Tuscan or curly.
If you are out of shallot, red onion can work.
---