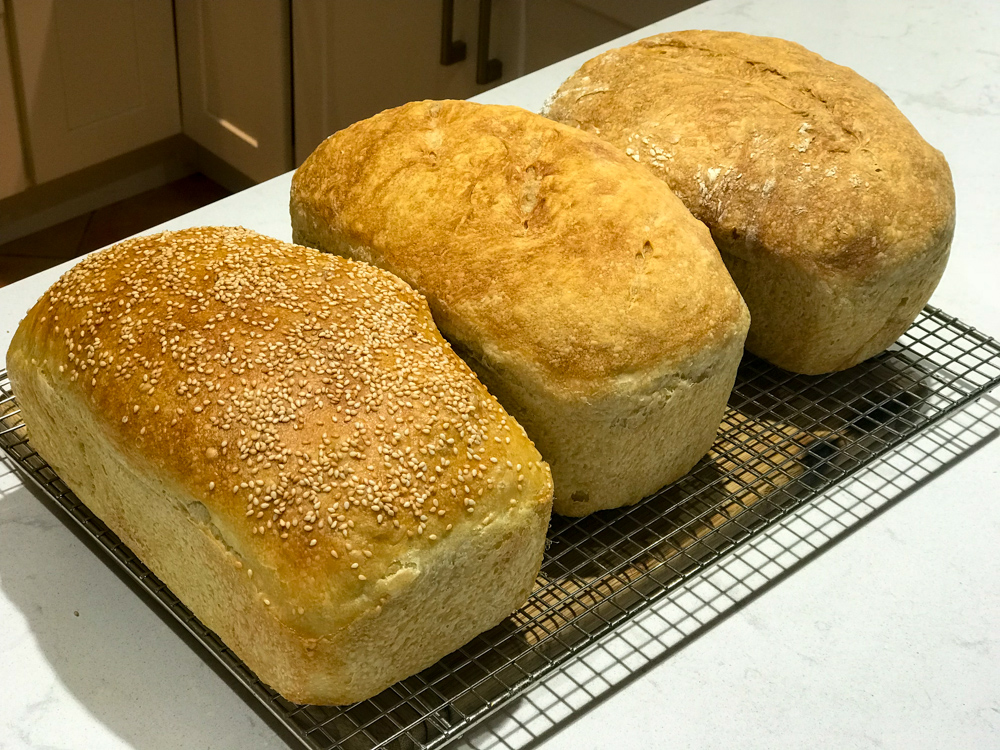 No-Knead Sandwich Loaf
Make wonderful, aromatic sandwich bread with little effort! The beer and vinegar in this recipe contribute to a fine crumb and softer crust than the well-known no-knead boule. Since this recipe for a single loaf calls for 1/3 of a bottle of beer, I usually make 3 loaves at a time, mixing the dough 3 separate times in individual bowls. Adapted from Breadtopia.


Yield 1 1 loaf

Ingredients

18 ounces (~3 2/3 cups) white flour
1 3/4 teaspoon kosher salt
3/8 teaspoon instant yeast
1 cup (8 ounces) water
1/2 cup (4 ounces) beer
3 3/4 teaspoons distilled white vinegar
---
1
In a large mixing bowl, whisk together flour, yeast and salt.
---
2
In a separate bowl or large measuring cup, mix remaining ingredients. Add to flour mixture, stirring with spoon or dough whisk. Dough will be shaggy and look a bit dry.
---
3
Cover with plastic wrap, then let rise in a warm place for 12-24 hours.
---
4
Oil a large loaf pan. Turn out onto floured surface, then fold dough over on itself about 12 times. Shape into loaf, then place in pan. Cover with plastic wrap and let rise for 2 hours.
---
5
Preheat oven to 425°F. Place bread in oven, then immediately reduce temperature to 350°.
---
6
Bake for 50-60 minutes. Bread should be golden and register 200° in center.
---
---
notes Variations:
Whole Wheat - you can replace up to 6 ounces of the flour with whole wheat flour without compromising texture. Be sure to add 2 1/2 tablespoons honey with the wet ingredients, as whole wheat needs a bit of sugar for better rise.
Seed-Topped Bread - Brush risen loaf with egg wash (1 egg mixed with 1 teaspoon water). Sprinkle with seeds of your choice (we love sesame).
Cinnamon Raisin Bread - Soak 1/2 cup raisins in warm water and drain when soft. After turning dough onto floured surface, before second rising, roll dough into long rectangle, about 1/2 inch thick. Brush with egg wash (1 egg mixed with 1 teaspoon water), then sprinkle with 1/4 cup brown sugar, 1/2 teaspoon cinnamon and the raisins. Starting at short end, roll up into cylinder, tuck ends under, and place seam-side down in loaf pan. Proceed with recipe above.
* For a hearty, artisanal version, click on
'No-Knead Bread'
.
---