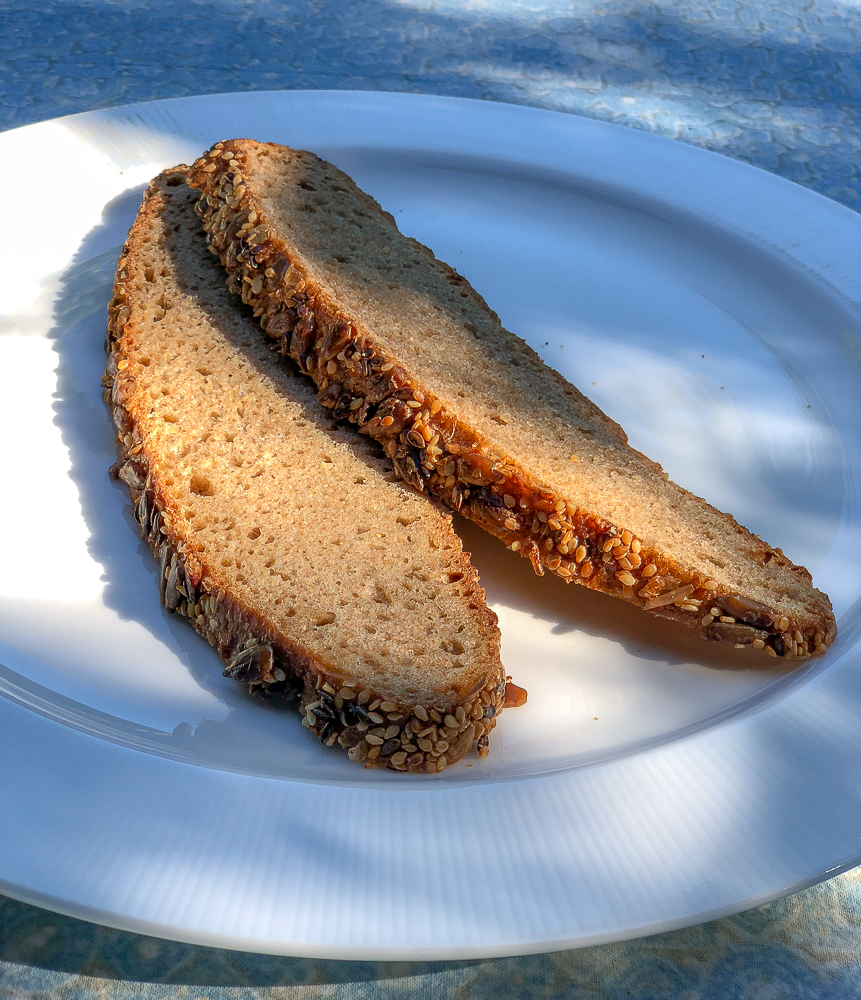 No Knead Seeded Whole Wheat Bread
I, like thousands of others, became a bread baker the day Jim Lahey's recipe for No-Knead Bread appeared in the New York Times. My son challenged me to make a 100% whole wheat version, which I knew would be as heavy (and as delicious) as a brick. However, with a bit of oats and vital wheat gluten to lighten it up, as well as some honey to feed the yeast, this tasty loaf was born. The seeds add an irresistible nutty flavor. This is still a hearty, dense bread, but is wonderful sliced thin, toasted and topped with a smashed avocado or your best homemade jam.


Yield 1 loaf

Ingredients

1/4 cup rolled oats
2 cups water, divided use
2 tablespoons honey
3 1/2 cups whole wheat flour
1/4 cup vital wheat gluten
3/4 teaspoon rapid rise yeast
1 1/2 teaspoon salt
2 tablespoons sunflower seeds
2 tablespoons sesame seeds
1 tablespoon flax seed
Cooking spray or vegetable oil +
1 egg
1 teaspoon water
Additional flour and cornmeal for dusting +

Special equipment: 4 quart cast iron pot with cover, 9 to 10 inches in diameter
---
1
In microwave proof bowl, place oats, honey and 1/2 cup water. Cook in microwave on high for 1 to 2 minutes, until water is absorbed. Stir to blend.
---
2
In large mixing bowl, whisk together flour, gluten, yeast and salt.
---
3
Add oats and remaining water to flour mixture. Stir until combined. Dough will be somewhat dry and craggy; if too dry, add a bit more water, a tablespoon at a time.
---
4
Cover bowl with plastic wrap and let rise for 18 to 24 hours.
---
5
Dust a board or Silpat (my preferred surface for sticky dough) with flour. Scrape dough onto board and gently press into oblong, dusting with a bit of flour as you go. Fold into thirds, then pull together into a ball. Turn seam side down and let rest for a few minutes.
---
6
In a small bowl, toss seeds together.
---
7
In another small bowl, make egg wash by beating egg with a teaspoon of water.
---
8
Grab a mixing bowl that is roughly the same diameter as your baking pan. Spray the lower half of the bowl with the cooking spray (or rub with oil).
---
9
Sprinkle the seeds over the oiled surface, distributing evenly.
---
10
Brush the top of the dough with the egg wash, going all the way down the sides. Carefully pick up the dough and turn upside down into bowl, so egg-washed side is contacting seeds. Cover bowl with plastic wrap again and let rise for 2 hours.
---
11
30 minutes before rising time is up, preheat oven to 450° and place cooking pan and cover in oven to preheat.
---
12
After 30 minutes, remove pan to heatproof surface. Dust the bottom with a bit of flour or cornmeal. Quickly invert dough bowl over pan so dough plops in, seeded side up. I have yet to have it perfectly plop, ever, so have a spatula handy to nudge it into place.
---
13
Cover and bake for 30 minutes. Remove cover and continue to bake for another 15 minutes, until loaf is firm, browned and sounds a bit hollow when tapped.
---
14
Remove immediately from pan and allow to cool on rack before cutting into it.
---
---