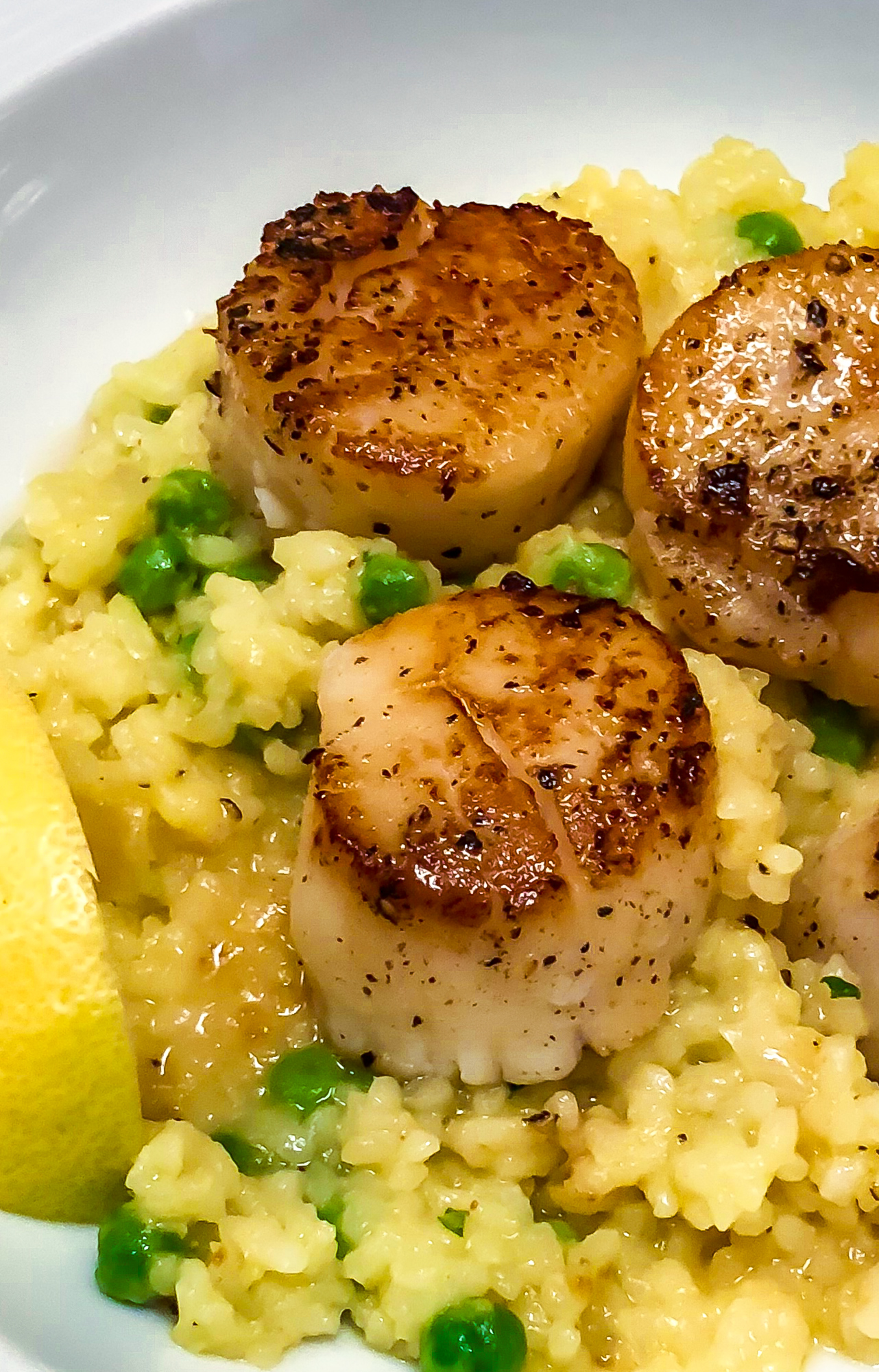 Lemon Risotto with Seared Scallops
Risotto does not have to be a labor-intensive, constantly stirred pot to achieve perfect results. For this dish, I combined a risotto recipe from Epicurious.com, but employed methods and advice from Serious Eats' J. Kenji Lopez-Alt. If you want to learn more about why this works, you can read his article here. Lemon risotto is in a perfect marriage with seafood, so I topped it with the quickly prepared scallops for an outrageously delicious dinner. Serve with chilled dry white wine.


Yield 4 servings

Ingredients

For the Lemon Risotto:
6 cups chicken stock
1/4 cup dry white wine
2 cups Arborio, Carnaroli or Bomba rice
3 1/2 tablespoons butter, divided use
1 1/2 tablespoon olive oil
2 large shallots, finely chopped
Pinch of turmeric (optional) +
1 cup freshly grated Parmesan cheese (about 3 ounces)
1 cup frozen peas (optional)
1 tablespoon grated lemon peel
1/4 cup fresh lemon juice
2 tablespoons chopped fresh parsley
Salt and freshly ground black pepper +

For the Scallops:
1 1/2 tablespoon olive oil
1 1/2 tablespoon butter
16 large sea scallops
Salt and freshly ground black pepper +
---
1
Prepare risotto: combine stock and wine in large bowl. Add rice, and swish around for a minute or two. Drain rice, reserving stock and wine. Let rice drain for 5 minutes.
---
2
In a 12-inch skillet over medium-high heat, heat olive oil and 1-1/2 tablespoons butter. When foaming has subsided, add rice and cook, stirring, for approximately 5 minutes, until rice takes on some color and a nutty aroma.
---
3
Add shallots and saute for 1-2 minutes longer.
---
4
Add 4-1/2 cups of stock/wine mixture to rice and bring to a simmer. Stir, cover, reduce heat to lowest setting, and cook for 10 minutes.
---
5
Uncover, give a quick stir, and replace cover, and cook for 10 minutes more.
---
6
While rice is cooking, prep scallops: Remove tough muscle on side (if it's there), pat scallops dry and season with a bit of salt and some generous grindings of black pepper. Set aside.
---
7
Remove cover from rice, add remaining stock to pan, and increase heat to medium high. Cook, stirring almost constantly, while you cook the scallops (next step). Add turmeric if desired to attain a light lemon-yellow color.
---
8
Heat another 12-inch skillet over medium high heat. Add 1-1/2 tablespoons butter and 1-1/2 tablespoons olive oil. When foam subsides, add scallops and cook, not moving, for 4-5 minutes, until golden and easily lifted. Flip and cook for 1 more minute. Remove from heat while you finish risotto.
---
9
When risotto is creamy and no longer runny, remove from heat, and stir in 2 tablespoons butter and the cheese. Add the peas, lemon zest, lemon juice and the parsley. Give a quick stir. Add a bit more water or stock if needed to loosen the consistency.
---
10
Place a mound of risotto on a warmed serving plate, then top with 4 scallops.
---
---