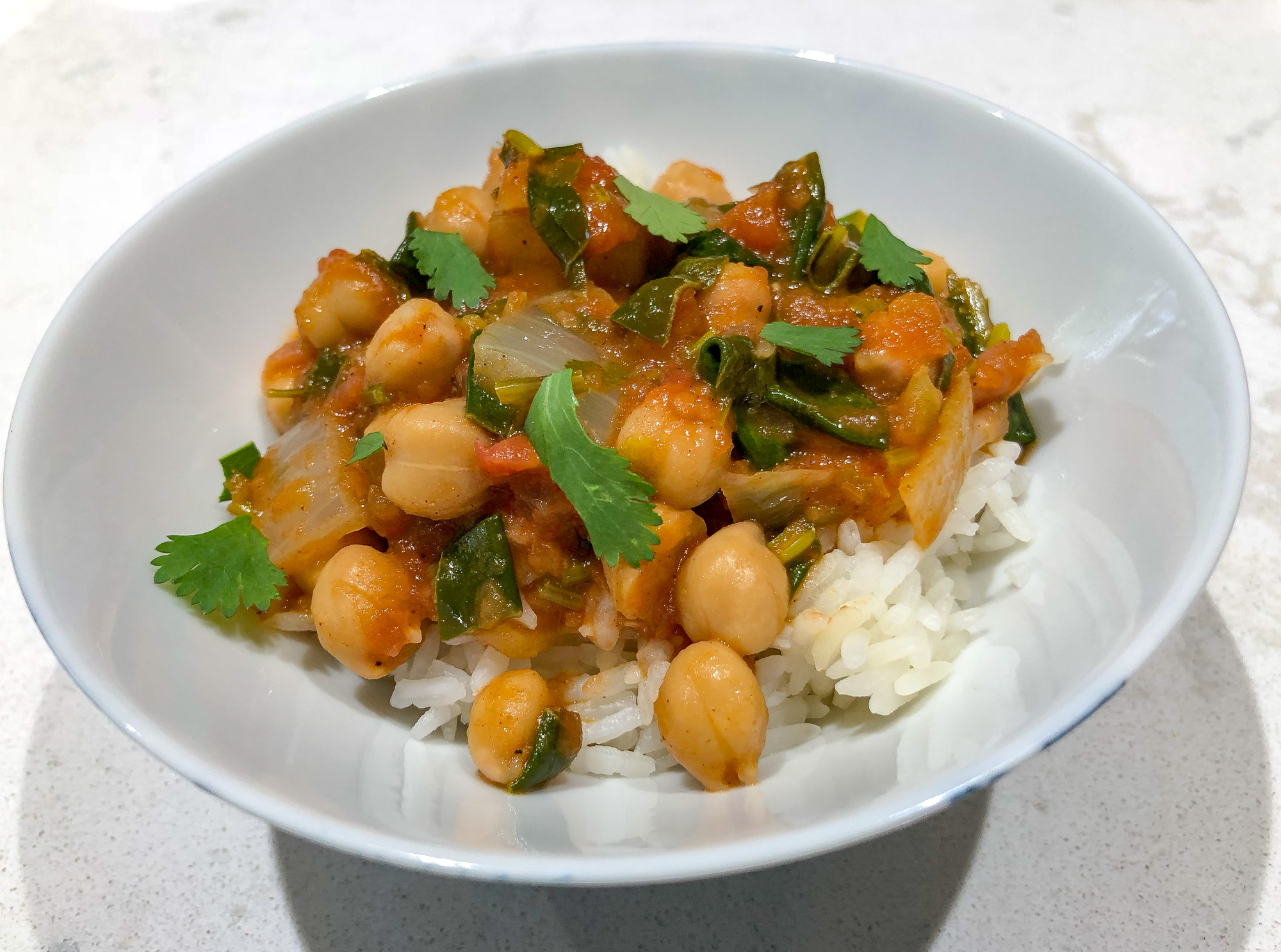 Chickpea and Spinach Tikka Masala
Delicious vegan version of the classic Tikka Masala. Canned ingredients make it easy to throw together for a last-minute dinner, but it is even better the next day. Some garam masala is quite spicy, so adjust (or omit) the cayenne to suit your palate.
Vegan version of Indian classic.

Yield 4 servings

Ingredients

1 tablespoon coconut oil
1/2 teaspoon black mustard seed
1 1/2 cups finely chopped onion
1/2 teaspoon kosher salt
2 tablespoons peeled grated/minced fresh ginger root
1 tablespoon minced garlic (about 4 cloves)
1 tablespoon garam masala
1/8 teaspoon ground cayenne pepper, or more if you like it spicier
28 ounces canned tomatoes, whole or diced, pureed with their juices
15-ounce can chickpeas (garbanzo beans), rinsed and drained
3/4 cup coconut milk
1/2 cup chopped fresh cilantro, plus more for garnish
1 1/2 cups chopped spinach

Steamed rice and/or warm naan for serving
---
1
Heat the oil in a large, nonreactive skillet or Dutch oven over medium heat. Add mustard seed, and when it sizzles, add the onion and salt. Cook, stirring occasionally, until the onions are soft and translucent, 5 to 7 minutes.
---
2
Add the ginger and garlic and cook until fragrant, about 1 minute. Add the garam masala and cayenne, if using, and cook, stirring constantly, until fragrant, about 30 seconds.
---
3
Add the pureed tomatoes, chickpeas, coconut milk,1/2 cup of chopped cilantro, and the spinach. Taste, and add more salt and cayenne if needed.
---
4
Increase the heat to medium-high until the mixture just begins to bubble. Reduce the heat to low and cook, stirring occasionally, until the sauce thickens and the flavors meld, about 20 minutes.
---
5
Serve in individual bowls over rice. Garnish with more chopped cilantro.
---
---
notes Adapted from The Washington Post, which was adapted from ôLove Real Food," by Kathryne Taylor
---