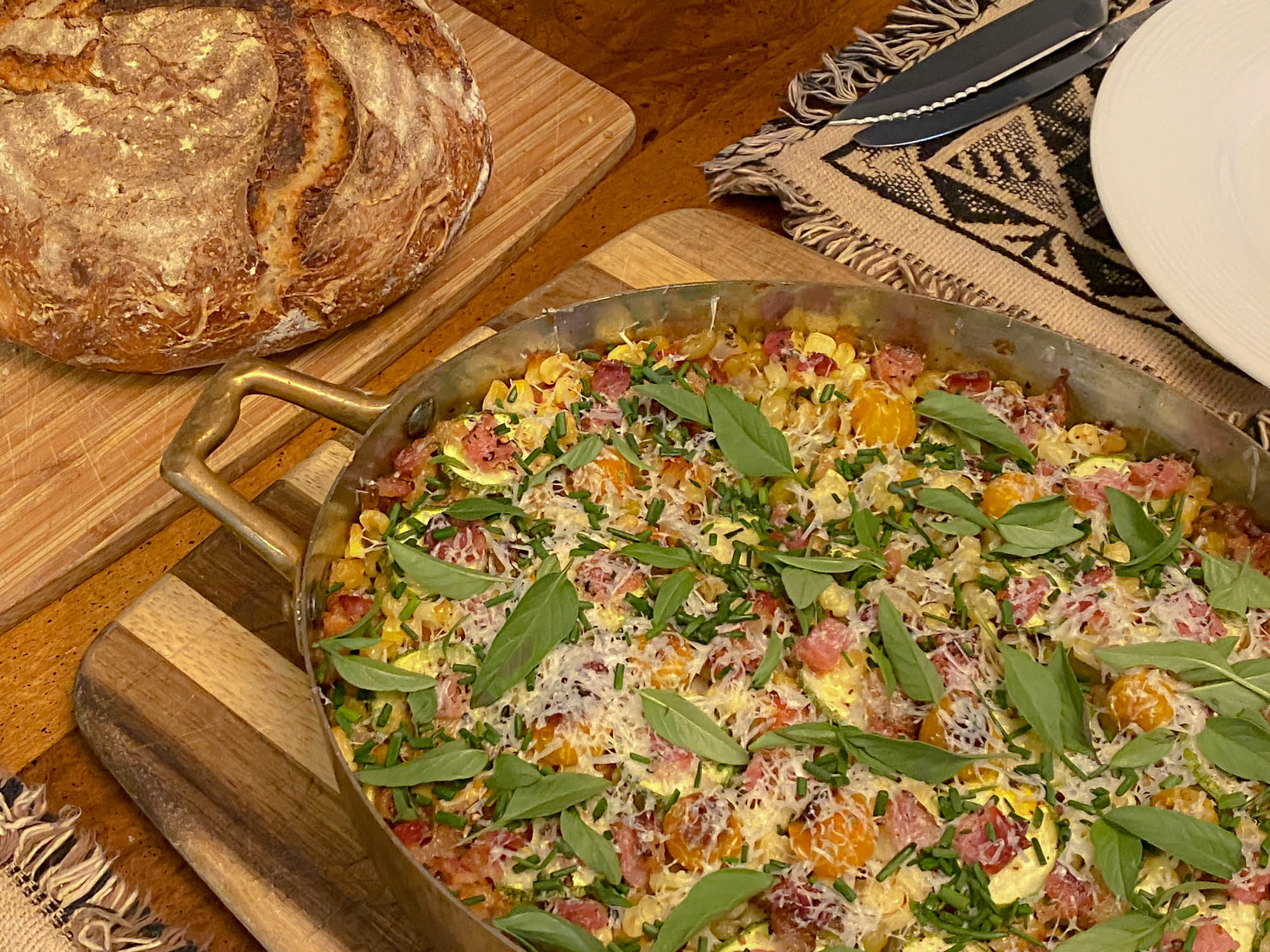 Summer Garden Cassoulet
Rancho Gordo produces the most perfect beans you can find. I happened to have their flageolet (typically used in cassoulet) on hand when I received their newsletter with a recipe for a summery gratin that was reminiscent of cassoulet. Perfect for using my current garden bounty of squash and cherry tomatoes, I seasoned it a bit more to our liking, and this is the delicious result. Serve with a great crusty bread to sop up the wonderful juices.


Yield 8 servings

Ingredients

2 tablespoons butter or olive oil, plus more for topping
1/2 large onion, finely chopped
1 tablespoon fresh thyme leaves (or 1 teaspoon dried)
2 teaspoons Penzey's Sunny Paris Seasoning (or 1 teaspoon lemon zest)
2 large cloves garlic, minced
1 large tomato, sliced (or use some slightly smushed canned San Marzano tomatoes)
1/2 pound summer squash, very thinly sliced (Romanesco, if you can get it, is perfect here)
1 cup cherry tomatoes
1 1/2 cups corn kernels (approximately 2 medium ears of corn)
Salt and freshly ground pepper +
3 to 4 cups cooked Flageolet (or Navy) beans (1/2 pound dried), drained, some cooking liquid reserved
3 oz pancetta or bacon, chopped (optional)
Grated pecorino or Parmesan cheese +
3 tablespoons chopped chives (optional)
Torn fresh basil and/or mint (I like to use Thai basil from the garden, approximately 2 tablespoons)
---
1
Preheat the oven to 375F. Lightly grease an oven-proof 2-quart gratin dish.
---
2
In a small skillet over medium-high heat, melt the butter. Add onion and saute until tender.
---
3
In a bowl, gently mix beans with cooked onions, thyme, Sunny Paris seasoning (or lemon zest), and minced garlic. Lightly add salt and pepper.
---
4
Arrange the tomato slices, so they cover the bottom of the dish (or put down a light layer of canned tomatoes).
---
5
Reserve a quarter of the squash, corn, and cherry tomatoes for the final layer. Use the remainder this way - Add a layer of squash slices, then top with corn kernels and cherry tomatoes. Sprinkle with salt and pepper to taste.
---
6
Add the beans on top of the vegetables. Pour about 1/4 cup of bean broth over the beans (just enough to wet them). Over the beans, arrange a layer of squash, corn, and cherry tomatoes. Top with the pancetta or bacon, if using. Dot with butter.
---
7
Cover with foil and bake for about 30 minutes, until bubbling. Remove foil and bake for an additional 15-30 minutes, until bacon is cooked and tomatoes show some brown spots.
---
8
Before serving, dust with a generous amount of cheese, then top with fresh herbs.
---
---
notes Note for the pressure cooker fans: We cooked unsoaked flageolet beans in an Instant Pot for 22 minutes, with natural pressure release for 15 minutes.
---