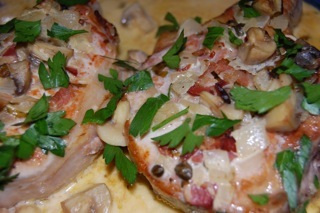 Cote de Porc a la Charcutiere
A traditional pork dish from Brittany. Spelled in France as: Côte de Porc à la Charcutière.
From the charming French restaurant in Carmel, La Boheme. Now closed.

Yield 4 servings

Ingredients

4 bacon strips cut, medium dice
1 medium onion, medium dice
1/2 pound button mushrooms, cut in quarters
herbs: 1 tablespoon fresh tarragon, pinch: thyme and 2 bay leaves
6 each cornichons, medium dice
2 cups white wine
2 cups chicken stock, may substitute with veal stock
1 cup heavy cream
1 teaspoon sugar (to cut acid of tarragon and cornichons)
Salt and freshly ground pepper
4 1" thick pork chops

GARNISH: 2 tablespoons chopped parsley
---
1
Sauté bacon until crisp, then add onion, mushrooms, tarragon, cornichons, thyme and bay leaf. Toss briefly to coat; add wine and reduce by 1/2. Add chicken stock; reduce by 1/2. Add cream and sugar; reduce. Add "seasoning" (culinary term for adding salt and pepper) and set aside.
---
2
Preheat oven to 400°F.
---
3
While reducing sauce, sauté both sides of the pork chops quickly over high heat to seal the meat and color it, and place the chops in an oven proof casserole and, when the sauce is reduced, pour over the chops enough to cover. Let chops cook for 15 to 20 minutes. Remaining sauce to be ladled over chops at time of service.
---
4
Serve with rice of your choice and enjoy a nice bottle of Monterey County Chardonnay.
---
---
notes Thanks to Alan Lewis, Owner La Bohème Restaurant
---