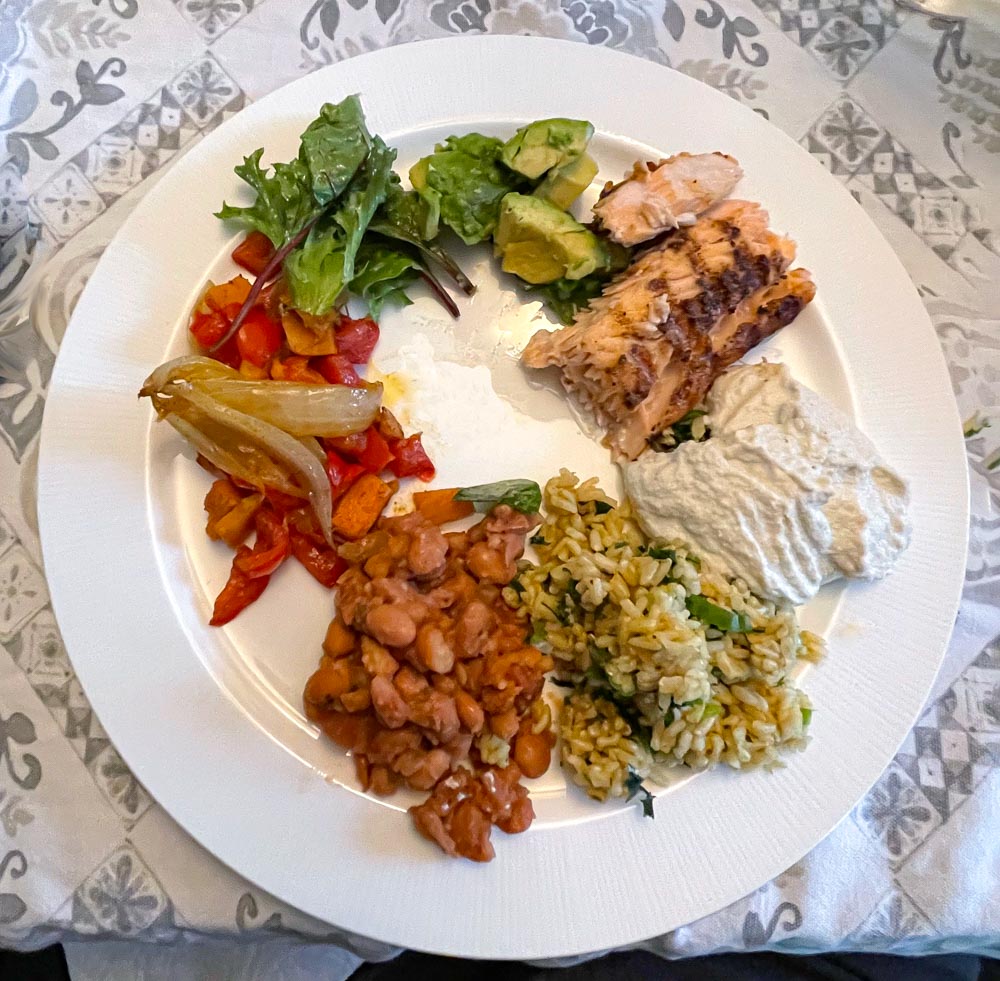 Sweet Potato Burrito Bowls with Cashew Cream
Delicious vegan construction prepared by Sarah Esserlieu from a Better Homes & Garden Recipe
Modern cross-ethnic bowl.

Yield 4 servings

Ingredients

1.5 cups unsalted vegetable stock or water +
2/3 cup uncooked regular brown rice +
1/4 cup chopped fresh cilantro
2 tablespoons sliced green onion (~2 scallions)
3 cups .75-inch pieces peeled sweet potatoes (~2 medium size)
1 cup coarsely chopped red sweet pepper
1 tablespoon olive oil
1 teaspoon chili powder
1/4 teaspoon cinnamon
1/4 teaspoon salt
1 15 ounce can pinto beans, rinsed and drained
1/4 cup salsa
1/4 cup Cashew Cream (below) or sour cream
Toppings, such as chopped avocado, salsa, crumbled queso fresco, (optional: toasted pepitas) +
Lime wedges (optional) +

CASHEW CREAM +
1 cup raw cashews
4 cups boiling water
1/2 cup water
1 teaspoon cider vinegar
2 tablespoons lime juice (~3 limes)
1 clove garlic, minced
1/8 teaspoon salt
---
1
Preheat oven to 425°F. In a medium saucepan bring stock to boiling. Stir in rice. Return to boiling; reduce heat. Simmer, covered, 45 minutes or until rice is tender and broth is absorbed. Remove from heat. Fluff with a fork and stir in cilantro and green onion.
---
2
Meanwhile, line a 15x10-inch baking pan with foil. In prepared pan combine next six ingredients (through salt); toss to coat. Roast 30 minutes or until potatoes are light brown and tender, stirring once.
---
3
In a bowl stir together beans and salsa. Warm it.
---
4
Divide rice among serving bowls. Top with sweet potato mixture and bean mixture. Drizzle with Cashew Cream. If desired, sprinkle with toppings and additional cilantro, green onions, and/or chili powder and serve with lime wedges.
---
-
CASHEW CREAM
---
1
Place cashews in a bowl of boiled water and cover. Soak 30 minutes. Drain.
---
2
Place cashews in a food processor with the remaining ingredients. Cover and blend until smooth, adding additional water as needed to make a smooth puree of thick drizzling consistency.
---
---