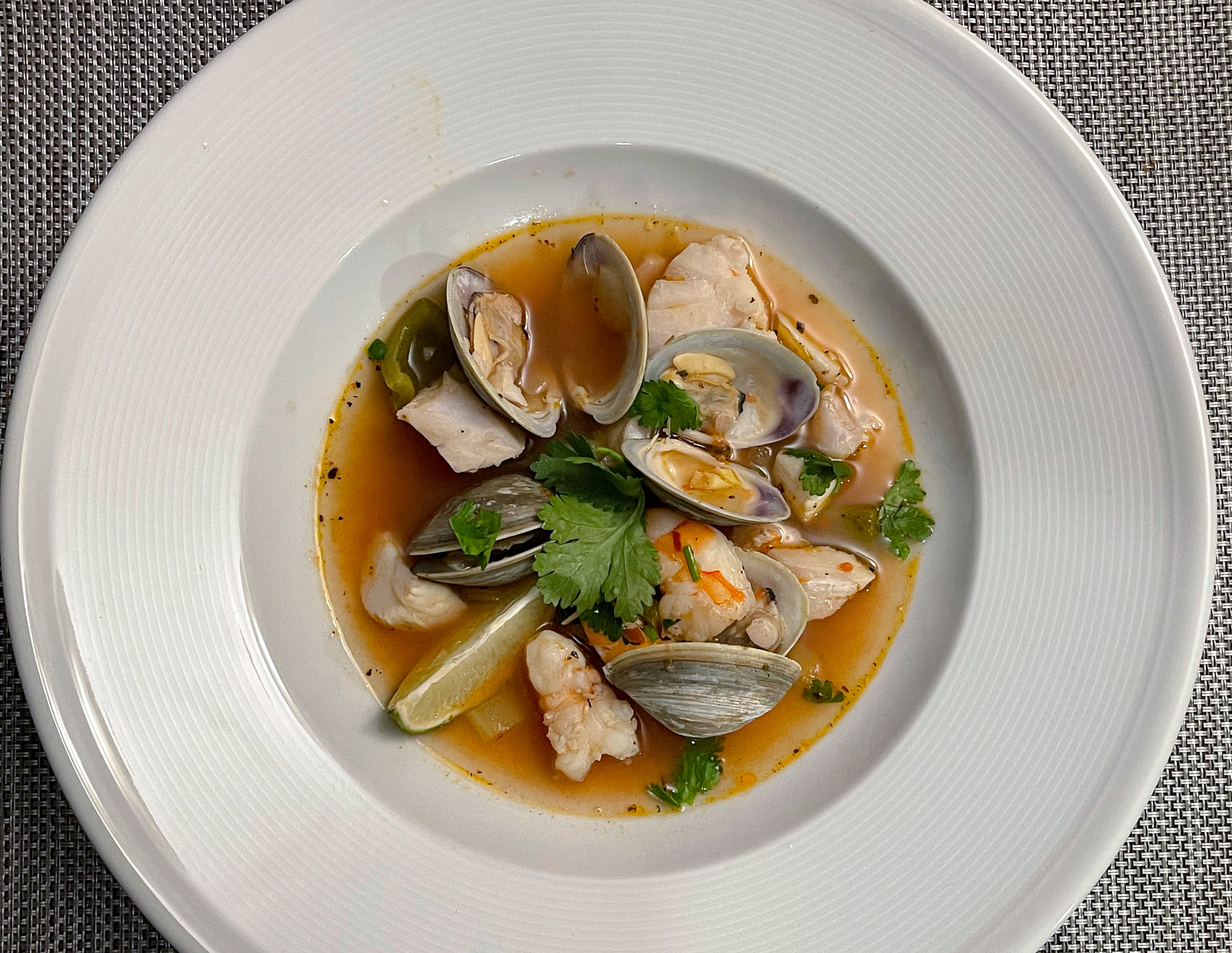 Seven Seas Soup
"Every year after the first snowfall, I make this recipe for my family. It is a family tradition, and we have it only once a year. It prepares us for the cold, hard North Dakota winters." ~ Shane Balkowitsch

We were amazed by Seven Seas Soup. The hearty dish will become part of our family tradition. We were honored that wet plate photographer Shane Balkowitsch contributed it readily. The subtle blend of South American flavors with seafood is restorative. ~ Mark & Joanna Beaulieu
Hearty Seafood Soup.

Yield 8 servings

Ingredients

1/4 cup olive oil
1 cup chopped onion
2 stalks celery, chopped
1 jalapeño, finely chopped
1 green bell pepper, chopped
4 large garlic cloves, finely chopped
1 (16-ounce) can diced tomatoes, puréed in a blender
8 cups fish stock or chicken broth
1 cup dry white wine
1 1/2 teaspoons dried oregano
1 teaspoon ground cumin
1/2 teaspoon crushed red pepper
1 teaspoon salt, or to taste
24 small clams, scrubbed and rinsed
3/4 pound shrimp, peeled and deveined, large shrimp preferred
1 pound skinless boneless fish (4 kinds, such as halibut, snapper, cod, mahimahi, cut into 1-inch pieces)
8 large sea scallops, cut into quarters
1/2 cup loosely packed chopped fresh cilantro
1 lime, cut into 8 wedges
---
1
In a large pot, heat oil over medium heat and cook onion, stirring frequently, until tender, about 8 minutes. Add celery, jalapeño, bell pepper, and sauté for 2 more minutes.
---
2
Add garlic, tomatoes, broth, wine, oregano, cumin, crushed red pepper, and salt. Bring to a boil, reduce heat to low, cover and simmer for 20 minutes to blend flavors.
---
3
Add clams to soup. Cover pot and cook until shells open, about 8 minutes.
---
4
Add seafood. Simmer uncovered until seafood is just cooked through, 4 to 5 minutes. Do not overcook. Discard clams that do not open.
---
5
Stir in the cilantro. Adjust seasoning. Serve with lime wedges.
---
---
notes Use canned clams only if you can't get fresh clams.
Vent fresh clams of their sand to keep your soup from becoming gritty. 4 hours before cooking, put clams in a bowl of water and sprinkle oats or cornmeal on top. In a few hours, they will extend out of their shell and expel their sand. Rinse these in a colander.
Pan toasting cumin seeds and some red pepper flakes adds flavor. Do this outdoors or a highly ventilated kitchen.
Don't overcook this soup.
On reheating leftover soup, remove all solid ingredients. Bring soup to boil. Just before serving, add back ingredients to warm up, but do not cook.
---