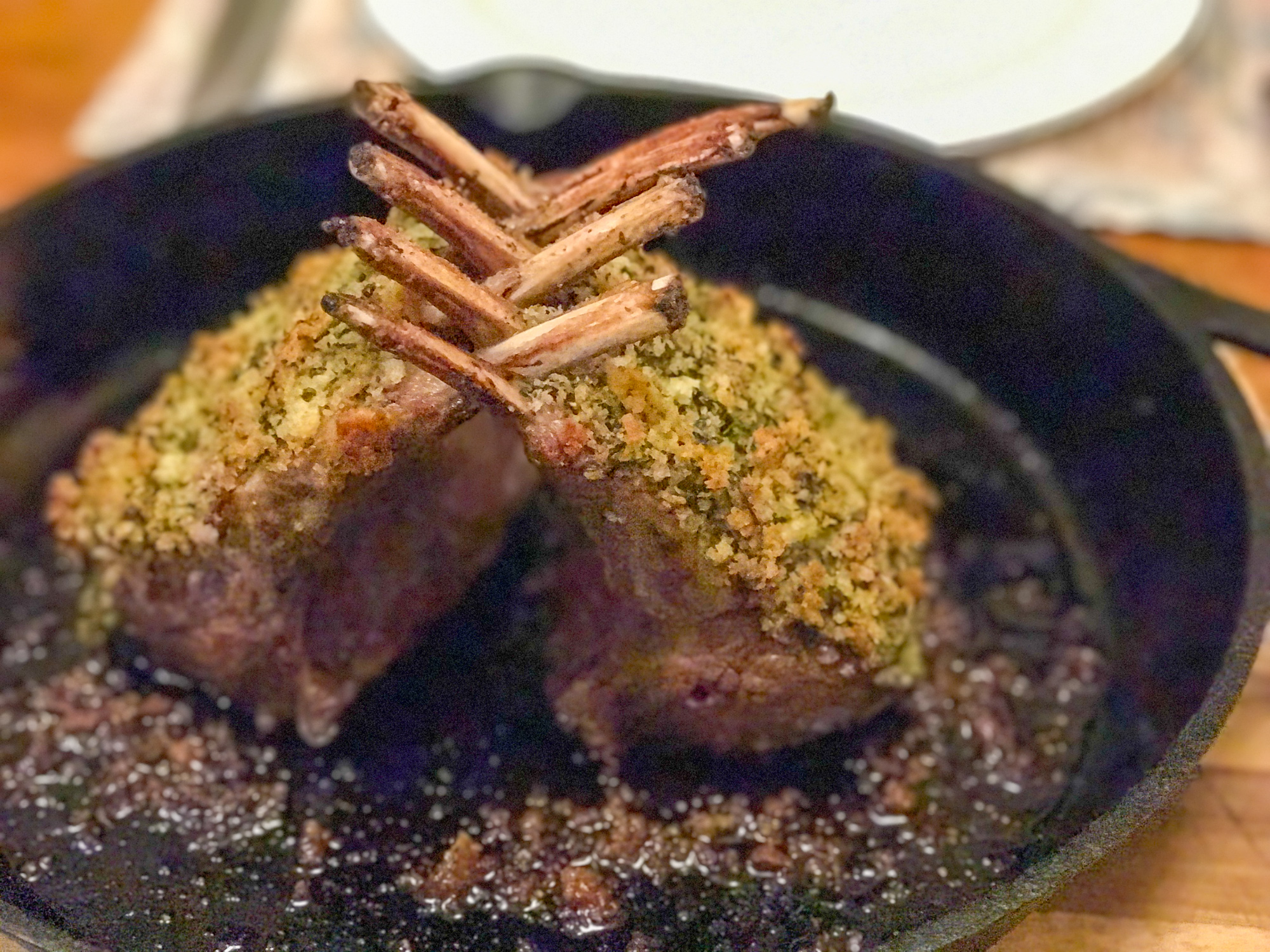 Mustard and Herb Crusted Rack of Lamb
Fabulous roasted lamb dish that comes together quickly. An instant-read thermometer is very helpful to ensure the lamb is a perfect medium-rare. We find that with rich, pasture-fed lamb, 2 ribs per person is enough. If you prefer larger portions, scale up the recipe. Any combination of herbs that complement lamb will work.


Yield 4 servings

Ingredients

1 Frenched rack of lamb (8 ribs total), rack cut in half
1/2 teaspoon onion powder
1/4 teaspoon garlic powder
3/4 teaspoon salt, divided use
1/2 teaspoon black pepper, divided use
1 cup fine fresh bread crumbs
1 large clove garlic, minced
2 tablespoons finely chopped fresh flat-leaf parsley
2 teaspoons finely chopped fresh mint
1 teaspoon minced fresh rosemary
1 tablespoon melted butter
2 tablespoons olive oil, or more as needed, divided use
1 tablespoons Dijon mustard
---
1
Sprinkle fat side of lamb with onion powder, garlic powder, 1/2 teaspoon salt, and 1/4 teaspoon of pepper. Let sit while you prepare crumb topping.
---
2
With rack positioned in middle of oven, preheat to 400°F.
---
3
In a small bowl, stir together bread crumbs, garlic, parsley, mint, rosemary, remaining 1/4 teaspoon salt, and 1/4 teaspoon pepper. Add melted butter and 1 tablespoon of olive oil and combine well. Add more olive oil as needed to make sure crumbs are coated but not dripping with excess oil.
---
4
Over moderately high heat, place a large, heavy, oven-proof skillet; cast iron is perfect. Heat 1 tablespoon oil in center of skillet until hot but not smoking. Brown each half-rack, turning once, about 3-4 minutes per rack. Arrange racks leaning against each other (as pictured), fatty sides up.
---
5
Spread fatty sides of each rack with 1 1/2 teaspoons mustard. Divide bread crumb mixture into 2 portions and pat each portion over mustard coating on each rack, gently pressing to adhere.
---
6
Roast lamb until thermometer inserted into center (avoid bone) registers 125°F for medium-rare, 15 to 20 minutes. Transfer to a cutting board. Let stand 10 minutes, then cut into chops. Note: Pastured lamb tends to cook faster, so adjust time accordingly.
---
---