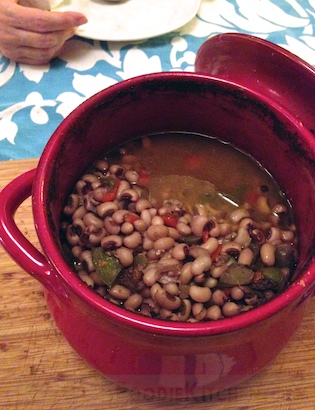 Black-eyed Peas
"Are you saying that if you eat black-eyed peas on New Year's day, you will have good luck for the rest of the year?" I said, dumbfounded. The white-curly-haired Mr. Brown studied me with assurance. His whiskey voice cracked out, "Don't you know that young man?" And so the maitre'd charmed me the new waiter at the Little Rhein Steakhouse in 1976. I served a small bowl of this to every table as an appetizer along with round bread toasted croutons and three spires of flavored butters. The croutons were made from the previous night's rolls. I finally won the recipe from the house's head chef, a South Korean dragon lady. She made me beg for it, learning the day she handed it to me, she had the recipe xeroxed for any guest who came. Black-eyed Peas are now a family tradition. Begin the soak at 9pm New Year's Eve. It bakes off at about 1am January 1st - New Years Day. For an authentic Down South Big production version, see Hoppin John . - Mark
The humble bean makes the meal great.

Yield 16 servings

Ingredients

1 pound black eye peas
5 cups water, boiling hot
3 tablespoons diced jalapeno pepper
3/4 cup chopped bell pepper
7 tablespoons chopped celery
1 teaspoon minced garlic
1/4 teaspoon cayenne pepper
1/2 teaspoon cumin
1 1/2 teaspoons salt
1 1/2 tablespoons ground allspice
2/3 teaspoon freshly ground black pepper
6 tablespoons butter
---
1
Soak peas in water 2 hours in oven proof casserole or stainless pot, covered.
---
2
Preheat oven to 350°F
---
3
Add all other ingredients to pot and cover. Place in oven.
---
4
Cook for 2 hours or until beans are tender.
---
---
notes NOTE This recipe is tried & true. It can also be cooked in a high pressure cooker for 15 minutes.
---