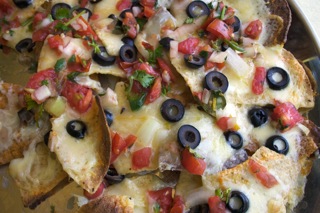 Nachos
Nachos are a great little snack or a perfect quick lunch. They are fast, tasty, and inexpensive. If you don't want to make Salsa Casera, use any fresh-made market salsa or simply dice tomato with onion and cilantro. Optional refried beans give more body.


Yield 4 servings

Ingredients

24-30 corn chips
1/2 cup sharp cheddar cheese, grated
1 cup Monterey jack cheese, grated
1/4 cup sliced black olives
2 tablespoons jalapeño pepper, sliced thinly
1 cup Salsa Casera

Optional
1/4 cup refried beans
---
1
Preheat oven to broil, or 400°F bake.
---
2
Space out chips on cookie sheet. If using refried beans, spread on chips as a foundation. Evenly sprinkle cheeses, and top with olives, jalapeño slices, and fresh salsa.
---
3
Bake on a high rack for 5 to 6 minutes or until cheese begins to bubble. Watch oven to avoid burning the chips.
---
4
Serve from the sheet with remaining salsa on the side.
---
---
notes Gauge heat of salsa and jalapeño and adjust to the right amount of spice desired.
---