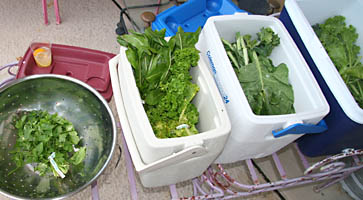 Mess O' Greens
Roland, my cohort in college crimes, and I made three cauldrons of this with Hoppin' John for a running New Years Day tradition that served 100 people in Palm Desert. The greens, also called Ona Mae's Hattiesburg Greens, reduce in size significantly. The dish is terrific and bound to be good for you. Use a giant pan and cover, or you will have to cook many batches.
Goes with Hoppin John, filling out a New Years menu.

Yield 24 servings

Ingredients

1 bunch basil
1 bunch collard greens
1 bunch kale
1 bunch dandelion greens
1 bunch mustard greens
1/4 cup olive oil
1/4 cup water
6 cloves garlic
1 large onion

garnish:
1 bunch green onion, thinly sliced
1 bunch Italian parsley, finely chopped

optional for color:
3 multicolored bell peppers, chopped
---
1
Rinse basil and all greens, and separate stems from leaves. Chop everything coarsely, keeping stems apart from leaves.
---
2
In a large pan or wok over medium-high heat, add olive oil. When warm, add garlic and onion to cook for 2 minutes.
---
3
Add stems from greens and cover the pan for about 4 minutes. Add optional bell peppers. Add water, the leafy part of the greens. Stir.
---
4
Cook down until moist and green, about 3 minutes. Take care to not overcook. Sprinkle with green onion and parsley.
---
---
notes The Big Kahuna outdoor gas grill can hold a monster pan for a large party.
---