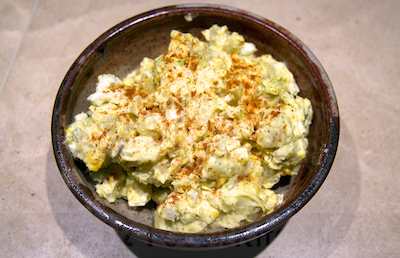 Old-Fashioned Potato Salad
Classic American potato salad is often found at picnics and summer parties. This is a well-worn recipe pleasing to adults and children. I love making it ~ Mark


Yield 8 servings

Ingredients

4 pounds equal-sized boiling potatoes, Yukon Gold are best
2 tablespoons Dijon mustard
1 teaspoon salt
2 cups mayonnaise
1 tablespoon vinegar
3/4 cup diced celery
1 cup diced white onion
8 large hard-boiled eggs, chopped
Salt and freshly ground black pepper +
1/4 teaspoon dried dill, plus extra for garnish
1/4 teaspoon paprika, plus extra for garnish
---
1
Cover potatoes with salted cold water by 2 inches in a 3-quart saucepan. Bring to boil and simmer uncovered until just tender, 20 to 30 minutes, depending on size of potatoes.
---
2
While potatoes are simmering, whisk together mustard, salt and mayonnaise in a small bowl.
---
3
Drain cooked potatoes in a colander. Rise with cold water and allow to cool.
---
4
When potatoes are cool enough to handle, rub skins off and cut into 3/4-inch cubes. Place in large bowl and toss gently with vinegar. Set aside for 10 minutes.
---
5
Add the mustard mixture and the remaining ingredients, then stir gently to combine.
---
6
Taste and adjust seasoning, if necessary.
---
7
Garnish with sprinkle of dill and paprika.
---
8
Cover and refrigerate at least 2 hours before serving.
---
---