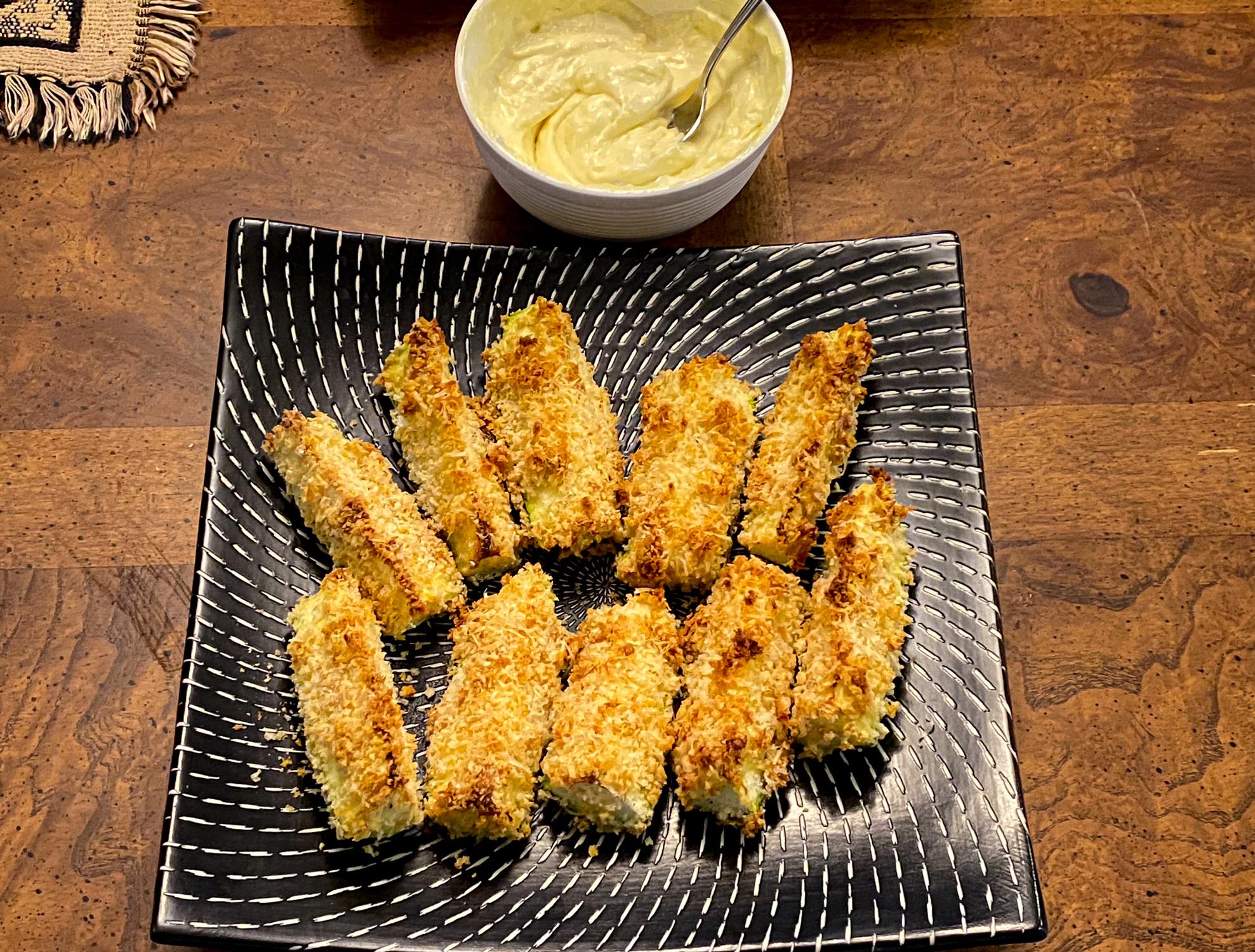 Baked Zucchini Fries
No deep frying is required to enjoy delicious, crunchy zucchini fries! This baked version tastes the same and is a healthy way to use up summer zucchini. Serve with Quick Aioli, Marinara sauce, or Ranch Dressing. Based on Chungah's recipe at damndelicious.net.
Zucchini Fries.

Yield 6 servings

Ingredients

1 cup Panko
1/2 cup freshly grated Parmesan cheese
1 teaspoon Italian seasoning
1/2 tsp dried basil
1/4 tsp dried oregano
Salt and freshly ground black pepper, to taste
1 pound zucchini (about 4 small or 1 large), quartered lengthwise, 3" long.
1/2 cup all-purpose flour
2 large eggs, beaten
2 tablespoons chopped fresh parsley leaves (optional)
---
1
Preheat oven to 425° F. Place a cooling rack on a baking sheet.
---
2
In a large bowl, combine Panko, Parmesan, and seasonings; season with salt and pepper, to taste. Set aside.
---
3
Working in batches, dredge zucchini in flour, dip into eggs, then dredge in Panko mixture, pressing to coat.
---
4
Place zucchini onto a prepared baking sheet. Place into oven and bake for 20-25 minutes, or until golden brown and crisp.
---
5
Serve immediately, garnished with parsley, if desired.
---
---
notes Panko is a Japanese-style breadcrumb, found in the Asian section of your local grocery store.
---