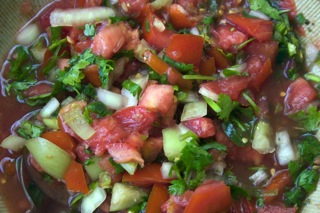 Salsa Casera
Fresh salsa is sensational! This easy to make piquant sauce is an essential ingredient for Nachos, Guacamole, Quesadillas, and tops dishes like Fajitas. Fresh cilantro makes it vibrant. Casera is Spanish for homemade. It is similar to Pico de Gallo. This recipe is perfect way to use up excess tomatoes that pour forth from the home garden in summer.


Yield 3 cups

Ingredients

3 cups chopped fresh tomatoes
1 tomatillo, chopped (optional)
1 jalapeño, minced
1 teaspoon dried oregano
1 green onion, thinly sliced
1/2 cup chopped onion, preferably sweet or mild
1/2 teaspoon fresh oregano leaves
1 tablespoon lemon juice
1 teaspoon lime juice
1 teaspoon lemon zest
1/2 cup chopped cilantro
Salt and freshly ground pepper, to taste
---
1
In a serving bowl, combine the ingredients and stir well. Season with salt and pepper.
---
2
Refrigerate for 1/2 to 1 hour, allowing flavors to meld. Taste and adjust seasonings if necessary.
---
---
notes Jalapeños come in all kinds of heat ranges. Take care to taste the pepper when you first cut it to ensure the right heat. Mark likes to begin this process stirring tomatoes with 1/2 teaspoon fresh ground coriander seed and letting it stand for fifteen minutes to infuse the spice. A close relative of Salsa Casera the sauce is
Pico de Gallo
which is more a side-salad.
---